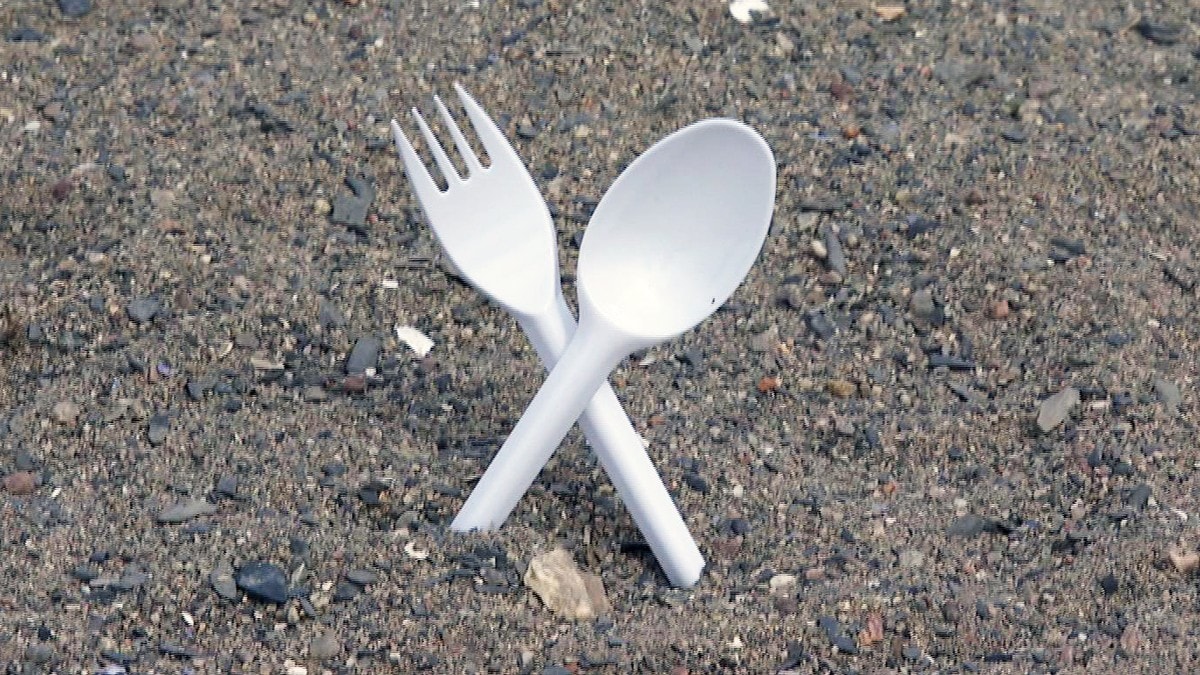 – These items are no reason to wear plastic. That is why we will ban it and try to ban it for the following summer, says Climate and Environment Minister Ola Elvestuen (V) to NRK.
He was one of many who sat on the beach at Huk in Oslo on Saturday to participate in the beach day. He came with the news when he saw no reason for Norway to wait until the EU decided to ban certain types of disposable plastic.
plastic cutlery
Plastic plates
plastic straws
Plastic chopsticks
Q-tips in plastic
Plastic brackets
– Do not wait
Plastic that they think can be easily banned because there are other environmentally friendly alternatives.
– I am absolutely certain that a ban will also bring new creativity. We will deal with that. Everyone has cutlery at home, alternatives we have more than enough, says Elvestuen.

Although the EU is banning plastic disposable material, the government will not wait for this. The Norwegian Environment Agency has now been instructed to prepare a regulation with the aim of having it dealt with in the autumn and adopting Norwegian rules in the spring of 2020.
"We want to do this as soon as possible, so we hope this is the last summer in which plastic cutlery is allowed," says Elvestuen.
Other plastic items can be more complicated to replace. The government has set up a group that will work with environmental organizations and the business community on reducing disposable plastic.
– They have to make a preliminary report for the fall and one for the winter. Then we see what we can easily ban, says Elvestuen.
The various EU bodies have gathered on the content of the forthcoming directive on disposable plastic. The directive is expected to be formally adopted in the EU before the summer and the implementation time for the bans is proposed for a period of two years from the publication of the directive that takes place just after the decision.
Plastic waste in Norway
– Here at Huk it is well cleaned up. But alongside the coast in Norway there are still many areas where plastic pollution is still being picked up, which happened decades after decades, says Elvestuen.
Plastic waste, microplastic in the sea is one of the biggest problems of our time. The whale that was stranded in the stomach with many plastic bags in 2017 was a major wake-up call.
– We also have to work internationally so that it has a global effect. This week we have a proposal within the Basel Convention. A decision must be taken before 10 May, hopefully we will have an agreement that regulates trade with what is dirty plastic to a much greater extent than before.
The Basel Convention is an international agreement for controlling the transport of hazardous waste across national borders. The purpose of the treaty is to minimize such transportation and to treat toxic waste as far as possible within the country's borders and not to ship to countries that have banned such imports, according to the major Norwegian lexicon.
Plastic in the mouth
Rusken General Jan Hauger was in place at Huk together with Minister of Climate and Environment Ola Elvestuen on Saturday. He says he got a funny experience on May 1 when a seagull landed a meter from him with plastic in his mouth.

– I don't know if it occurred to me, just to point out that plastic is something we should do something about. But it was funny that it landed a meter away from me with plastic in its mouth. I tried to save it. We need to do something more with plastic, says Hauger.
What is the problem then being in nature?
– It is broken down into microplastic that blows directly into the sea and into the food chain, so that fish and seabirds enter, and ultimately it ends up in us humans, Hauger concludes.
Source link