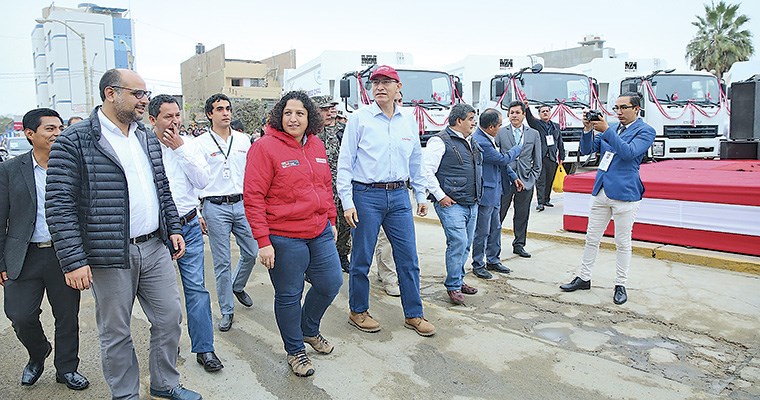 22/08/2018
Chiclayo, Lambayeque
draw up
"The next important task we need to take in Peru on October 7 is to choose hard-working and honest authorities to make the change with us, and it's up to you to make the best decision," said the president of the Republic, Martín Vizcarra in Chiclayo.
During the ceremony of delivery of 10 compactors for the management of solid waste in the district José Leonardo Ortiz, province of Chiclayo, Lambayeque, Vizcarra urged the public to analyze the candidates and to make efforts to get the authorities to work. to hold. absolutely transparent way.
Because the main problem of the country is corruption, the head of state pointed out that there must be honest people in the municipalities, regional authorities and institutions such as the Congress and the judiciary.
commitment
He also reiterated the government's commitment to continue to carry out work and projects, and continue to fight corruption, collect complaints from citizens, to give them the corresponding procedure. "Have faith that my government will work to fight corruption head-on," he emphasized.
The delivery of machines is intended to guarantee the public cleaning service in adequate conditions, for almost 200,000 inhabitants.
There, the head of state reiterated his commitment to support the execution of important works for the region, such as the port of Food.
The Minister for the Environment, Fabiola Muñoz, said during the delivery process that there are problems with cleanliness and inadequate waste management, but that they can not improve the quality of life of the population, especially children. Some diseases can be controlled, as is the case with anemia.
"Girls and boys deserve a better quality of life and we will not fight anemia if we have cleaning problems," he said.
Environmental care
The Minister for the Environment, Fabiola Muñoz Dodero, appealed to the public to adopt responsible behavior with regard to environmental care. "It is necessary to reduce waste and realize that involvement is important.If someone sees that waste is thrown, it must be said and not complicit." He also claimed that his sector is committed to the cleaning problem of the above mentioned District of Chiclayo, and therefore he has the management and handling of solid waste in that jurisdiction in emergencies for a period of 60 days (Ministerial Decree No. 11- 2018-Minam), and in May it issued such a statement for a period of time It also emphasized the combination of efforts to solve this situation that struck the inhabitants of that area in the north of Peru. "The population deserves that the servants understand the problem and this is why we are present because the efforts of the central government and the regional government have been added so that the district municipality can provide the service, "he said.
Source link