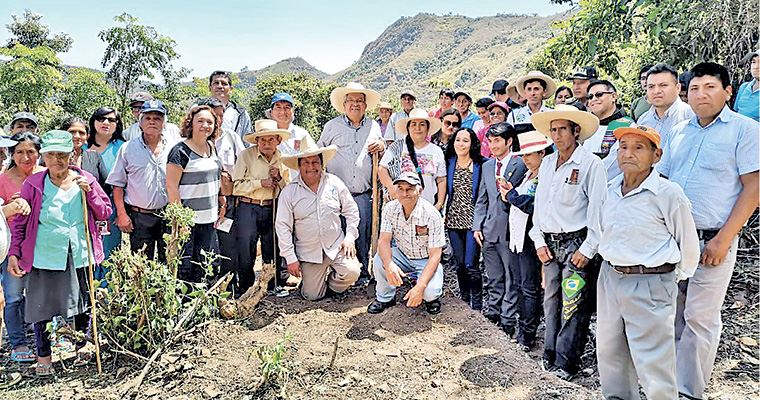 2018/01/09
The judiciary (PJ) started the construction of the first ordinary and common house of justice, which will be located in the hamlet of Maraypampa, district of Canchaque, Piura region.
The head of Piura's Supreme Court, Jorge Ruiz Arias, was the chairman of the first stone of this house of justice, unique in Peru.
In this building the residents of that area can solve their conflicts, because in this building the services of the PJ, the public prosecutor (MP), the national police of Peru (PNP) and the Ministry of Justice and Rights will be concentrated. Man (Minjusdh).
In addition, the patrols of the area of ​​the zone will have sufficient space to carry out their respective activities in accordance with the applicable regulations.
According to Article 149 of the Political Constitution of Peru, the farmers' and indigenous communities' authorities, with the support of farmers' patrols, can exercise the judicial functions in their territorial scope, in accordance with customary law, provided they do not violate the fundamental rights of the person.
In this context, the current legislation establishes the forms of coordination of that special jurisdiction with the justice of the peace and with the other agencies of the PJ.
This work, which will cover an area of ​​three hectares, donated by the Andanjo farming community, is unique in Peru and the world and will be built to achieve social peace and development in that part of the country, Justice Ruiz Arias said.
The construction and management of the buildings will be in charge of the population, with the support of the respective authorities.
For its part, the president and officials of the above-mentioned higher court have donated various materials for the construction of the fence.
This initiative is framed in the institutional policy of the PJ, which presides Víctor Prado Saldarriaga, to bring the ordinary and common rounder justice in that part of the Republic.
Moreover, the PJ fulfills its reform with the population.
Macro-regional course
The PJ reported that the second macro-regional course on community justice in 15 centers in the Piura and Tumbes region continues to train ronderos, judges of peace, subprefects and civil security technical secretaries.
The aim of this activity is to improve the levels of coordination between common justice and ordinary justice. This course is organized by the courts of Piura, Sullana and Tumbes, as well as by the public prosecutors of Piura and Sullana, among other institutions.
Source link