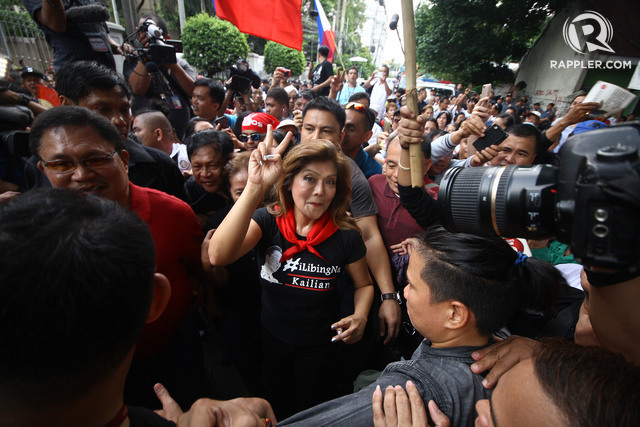 & # 39; The conflict between Marcoses and Aquinos happened long ago. We do not have to hate people for a long time, "says Ilocos Norte Governor Imee Marcos

MANILA, Philippines – Governor of Ilocos Norte, Imee Marcos, told Filipinos who continue to criticize her family to go beyond martial law.
This was Imee's message on Tuesday, August 21, when the nation commemorated the murder of ex-senator Benigno "Ninoy" Aquino Jr., the leader of the opposition during the dictatorship of Imee's father, the late Ferdinand Marcos.
"The millennials have gone further and I think people at my age should continue," said Imee in a press conference on the sidelines of the Visayan Island Cluster Conference of the League of Municipals of Philippines, held at Radisson Blu.
Cebu Daily News and the Philippine Daily Informr reported that Imee believes that the old feud between her family and the Aquino's should not be raised during Ninoy Aquino Day.
"The conflict between Marcoses and Aquinos happened a long time ago, we do not have to hate people for a long time, it is not our way, we just have to continue", says Imee.
It is a common line that Imee and her younger brother, ex-senator Ferdinand "Bongbong" Marcos Jr., would use when asked about the abuses under martial law. (READ: #NeverAgain: stories about martial law that young people need to hear)
The 21-year reign of their father was marred by murders, torture, disappearances, media repression and corruption. (READ: martial law, the dark chapter in Philippine history)
In August 1977 the 21-year-old Archimedes Trajano was at an open forum where Imee spoke and asked why she was the national president of the Kabataang Barangay.
Witnesses said that Trajano was forcibly removed from the hall by Imee's bodyguards and was tortured for 12 to 36 hours and thrown out of a window on the second floor. His bloody body was found on the streets of Manila on September 2, 1977. (READ: disappeared too quickly: 7 youth leaders killed under martial law)
The mother of Trajano later challenged Imee in a court in Honolulu, Hawaii, on March 20, 1986, about a month after the family Marcos moved there after the EDSA People Power Revolution that threw the older Marcos of power.
The Trajanos won the case in 1991, with the court awarding them $ 4.4 million. Subsequently, in 1993 they filed a civil case with the regional procedural court of Pasig City in order to collect the damages from the Marcos family.
But in 2006 the Supreme Court (SC) annulled the case and ruled in favor of Imee.
Ten years later, in 2016, the SC also allowed a hero's funeral for the dictator. – Rappler.com
Source link