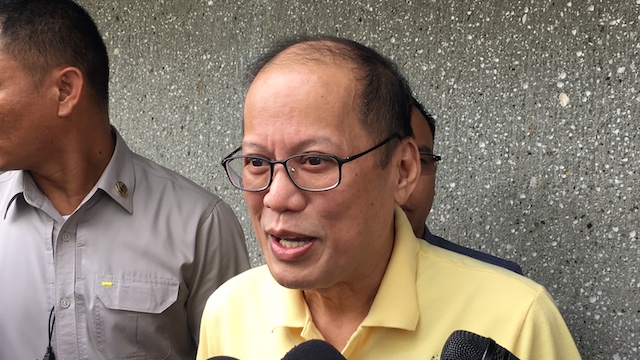 K Kungwalang issue, kayang-kaya sagutin,, says former President Benigno Aquino III

MANILA, PHILIPPINES – Former President Benigno Aquino III said that Malacañang should inform the public about the health status of President Rodrigo Duterte.
Aquino made the statement in an interview with reporters during the commemoration of the 35th anniversary of the death of his father, the late senator Benigno "Ninoy" Aquino Jr, in the Manila Memorial Park on Tueday, 21 August.
The former Filipino chief said that this information is crucial to take away the fear of the public, as Malacañang left behind the calls for the regular release of medical bulletins on Duterte after it was rumored that he had fallen into a coma. (READ: Amid rumor of Duterte coma, Malacañang insists that no medical bulletins are needed)
"Kungwalang issue, kayang-kaya sagutin. At palagay ko importante rin & # 39; yun pampakalma sa sambayanan … talagang maging klarong-klaro, maliwanag after maliwanag"Said Aquino.
(If there is no problem, this can be easily addressed.) And I think it's also important to calm the audience … to be really clear [about the issue]). "
Aquino also said that the 1987 Constitution requires the cabinet to know the health of the president.
"& # 39; Di ba nasa Constitution & # 39; yun (Is it not in the Constitution), if I remember correctly. The Constitution, Yung The government must be fully aware of the health of the president. That is imposed by the constitution, "Aquino said.
The 1987 Constitution also stipulates that the public must be informed if the President has a serious condition.
Other ways
Malacañang, Aquino said, also has other ways to address the problem. He finally said that a sitting president has various public activities and commitments.
"Parang mahirap naman yatang everytime after long magre-raise ng isyung ganoon, sasagutin, baka wala kang ginawa kakasagot, Pero palagay ko naman, madaling nakakausap ng kanyang mga opisyal, maraming aktibidades ang Presidente, Anglais ipakita noon maski & # 39; man derechuhin sagutin & # 39; yung komentaryo ni Joma, " Aquino said.
(It would be difficult to respond to it every time this problem is raised, you could only get answers in the end and not achieve anything else.) But I think it's easy for him to talk to his officials, President has many activities to show it without responding directly to Joma's comments.)
Communist leader Jose Maria Sison had claimed that Duterte was in a coma on Sunday, August 19, after attending an event of his law school brotherhood, Lex Talionis, on Saturday night in Davao City, which was his last public appearance.
Malacañang reduced this and said that the Chief Executive was "as strong as a horse".
The presidential spokesman Harry Roque also denied the need for Malacañang to release medical bulletins from the doctors of the president to calm down such rumors.
It is enough, he said, that Duterte will be in Cebu City Tuesday to take part in a conference of the Visayas cluster of the League of Municipalities of the Philippines.
But on Monday, during stubborn rumors, President Bong Go's special assistant started an alleged live video from Duterte to remove accusations. The video, which appeared live on the Bong GO Facebook page around 8:30 PM, shows that Duterte is probably about to dine with an unnamed woman.
The allies of Duterte in the Senate also supported the palace and said that such rumors are simply "fake news", so it is not necessary to issue medical bulletins.
Unlike Duterte, other presidents, such as Fidel Ramos, issued medical bulletins from their physicians when they had undergone medical procedures. (READ: President's Health: Pleasant subject for Duterte, public concern about the Constitution). – Rappler.com
Source link