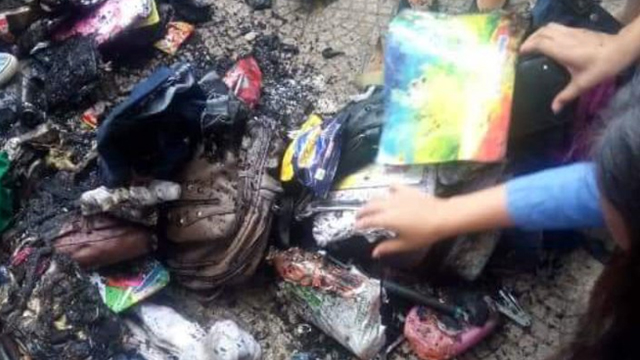 ALBAY, Philippines – The Department of Education (DepEd) in Bicol is investigating the burning of bags for students at the Bicol Central Academy (BCA) in Libman, Camarines Sur.
BCA administrator Alexander James Jaucian would have ordered the bags to be burned after the students had not adhered to the policy & # 39; no purse & # 39; for a school event. Photos of the burnt bags went viral.
Jaucian, also a provincial board member in Bicol, was caught on video and also called the students "stupid".
"We are deeply sad and are now investigating the case," said DepEd Bicol director Gilbert Sadsad in a statement.
"Although we can not sanction the offending person because he falls under the jurisdiction of the authorities of a private school, we will review our policies if we can offer sanctions in terms of possible withdrawal of the school work permit and other benefits the government offers, "he added.
DepEd Bicol information officer III Mayflor Jumamil said the school headquarters in Camarines Sur asked BCA management for a written letter
Sadsad said that all allegations of child abuse would be handled by the Ministry of Social Affairs and Development . – Rappler.com
Source link