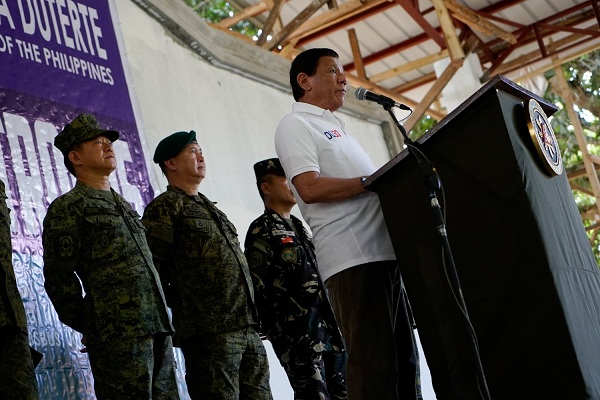 Do not let yourself be caught alive, Duterte tells Sulu troops
(philstar.com) – August 26, 2018 – 2:02 PM
MANILA, Philippines President Rodrigo Duterte would rather literally bite than to be captured by armed groups and he wants soldiers to do the same.
Duterte said that he would choose to take his own life rather than be kidnapped and mistreated by terrorists or rebels.
"Huwag kayo magpababoy. Ang sundalo ko, matapang at mamatay." Kaya & # 39; pag wala ka ng bala, & # 39; yung last magazine, kainin mo after long, & # 39 ;, the president said Saturday to soldiers in Sulu.
(Do not allow yourself to be respected, my soldiers are brave and ready to die. If you do not have bullets, eat the last magazine)
"Kasi kung ako, for whatever reason, mag-aberya, yung aflano, mag-landing ako, hindi nila ako mahuling buhay, pasabugin ko itong mukha ko sa harap nila, Ito, ah T *** i ** mo Totoo, "said the president, who sometimes speaks in exaggeration.
(If my plane is experiencing difficulties for some reason and lands, they will not catch me alive. I'll just shoot my face in front of them., Son of a … I mean it)
Duterte said that soldiers who surrendered and were captured alive were taken to hostile camps when dogs were being treated and decapitated by their kidnappers in front of the camera.
"So they will not catch me (alive). I prefer to eat my 9-millimeter," he said.
The president said he had soldiers on hand to defend himself against armed groups. He reminded them to take care of himself during fights.
"Do not play an extraordinary hero, find a cover … You can only see that in the film, here's every step of the way for … your safety first," Duterte said.
"I pray … for your safety, I ask God that you get protection, so that you can come home to your families now and again," he added.
& # 39; Destroy and kill & # 39;
Duterte also directed the army to "destroy and kill extremists." who subscribe to a & # 39; bankrupt & # 39; ideology.
"I assure you that you have my full support in carrying out intensive military operations against these terrorist groups, especially those who subscribe to the
extremist ideologies of the Islamic State and Al-Qaida, "said the president.
"That is just a bankrupt – useless ideology, it only wants to kill and destroy, destroy and kill, so my assignment to you: destroy and kill too."
Duterte is convinced that the government troops will be able to win their battle against security threats.
"Know that I am very humbled by your dedication, inspired by your resilience and grateful for the continued support." With your courage, selflessness and patriotism, I am optimistic that one day we will defeat all threats to our democratic institutions and protect a rosier one. future for our beloved country, "he added.
The president said that he wanted all injured soldiers to receive medals and that they had continued pain to fulfill their mandate.
"I made the Lapu-Lapu Order, if a step on a nail can hurt, how much more for a gunshot wound?" So there should be a price, "he said. – Alexis Romero
Source link