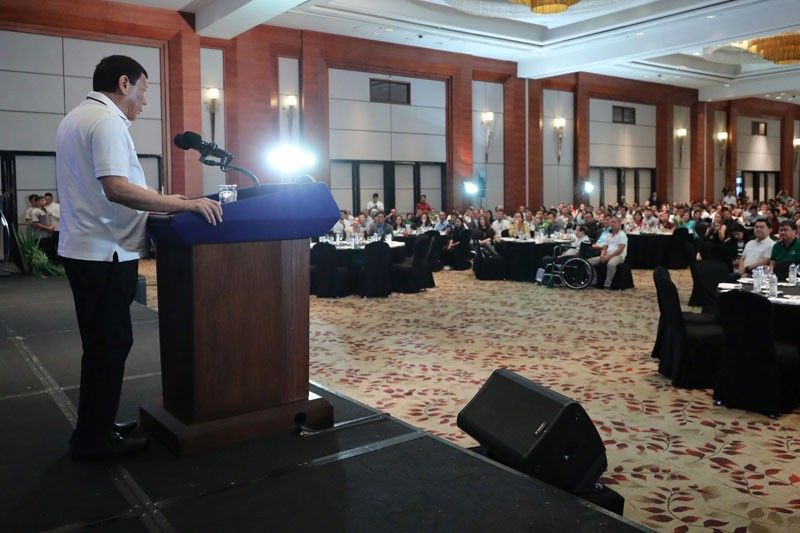 MANILA, Philippines – President Duterte has admitted that he suffered "an eternal pain" years ago from a motorcycle accident, but expressed confidence that it was not his time yet.
Duterte has also denied rumors that he is seriously ill, but revealed that he once relied on painkillers and was dizzy during travel.
"That's why I'm in constant pain … on every day it's seven on a scale of 10. The doctor did not want me to rely too much on painkillers." He said: "You better get in the clean come with your body & # 39 ;,, # 39; said Duterte last Tuesday at a meeting of Visayas mayors in Cebu.
Duterte said that his partner Honeylet Avanceña did not want him to undergo surgery because such medical procedures often go wrong.
"That is the threat of other doctors:" Go ahead. If it goes wrong, there are so many nerves. If it is cut, say goodbye, & # 39; "said Duterte.
The president admitted earlier that he experiences migraines every day and suffers from Buerger's disease, a disease caused by smoking. He also admitted that he had a spinal cord problem and a reduced hearing because of the accident.
Despite his ills, Duterte is convinced that he still has several years to go, in contrast to the claim of the communist leader Jose Maria Sison. The rebel leader had claimed that Duterte had fallen into a coma last Sunday.
"I do not know what he means to be comatose … Kama long sana ako pero" comatose Matagal pa ako (I was in bed but I was not comatose, I still have a long life), " said Duterte.
He scolded Sison and called him a "discredited leader."
The president said communist leaders no longer believe in Sison and he has a break with the Tiamzon couple, who are said to be the leaders of the rebels in the country.
"Hindi ka naman lalaki You are not a man Wala ka na (you are nothing) You were spent … You are talking nonsense," he said, and declared that Sison's revolt is doomed to fail.
"You'll never win, I'll assure you." Pag nakita kita sa impiyerno, sampalin kita (If I see you in hell, I'll hit you) Really, do not expect to go to heaven, " he added.
Duterte said that Sison should be ashamed because he has benefited from the resources of the Netherlands.
"You are a refugee in that country … you pay nothing, you stay there for free, and you're sick of cancer, in and out of the hospital … you're a rebellious freeloader … So stop it. yourself, "he said.
"Ask another country to accept you to give you the shelter, they call it a refuge – right to sanctuary, because you're sick, you might go to … Belgium or Germany," he added.
The shelters of rebels were threatened
The president also threatened to bomb the camps of communist rebels, who have been fighting armed struggles against the government for decades.
"I warn you rebels, I have a lot of weapons, you fight something, I will freely use all jets to bomb you, and if I injure civilians, it's part of the territory," he said.
"If you start a large-scale war, I will not hesitate to bombard you, but let's not prolong it, let's end this during my time," he added.
Duterte also warned mayors against helping communists and rejected the revolution as a "waste of time."
New threats versus PDI
In his speech, Duterte also issued new threats against the Rufinos and Prietos, the families who own the Philippine Daily Inquirer of broadsheet.
The president has accused the newspaper of publishing "garbage" stories and of prejudice against him.
Duterte said that he was filing a plunder case against the Claimant's Owners, who he accused of illegally possessing the Mile Long property in Mile in Makati.
"I want rich people to go to jail, I want them to experience it," he said.
Duterte also repeated that he had nothing to do with the deposition of former chief judge Maria Lourdes Sereno.
& # 39; Hang yourself & # 39;
Presidential spokesman Harry Roque Jr. said that those who spread misinformation about the health of Duterte should simply hang up.
"Ang suhestyon ko sa kanila, magbigti after long po silang lahat, dahil hindi po mangyayari iyong gusto nila (My suggestion is to hang themselves because what they want to happen will not happen)," Roque told dzRH radio station.
"It is impossible for him to have a serious illness, we saw the president yesterday (August 21) and he was very normal," he added.
& # 39; Drama & # 39;
The re-appearance of news items about Duterte's health was only a drama & # 39; to divert the public's attention from the problems that Filipinos were facing due to bad governance, Senator Antonio Trillanes IV said yesterday.
Trillanes commented on Sison's claim that Duterte had fallen into a coma last week, and Malacañang's response to releasing a photograph of him who was working.
"I'm assuming that (the health problem is) drama, so that Filipinos will feel sorry for him, so they will not blame him for rising prices. to be compassionate, "said Trillanes.
The opposition teacher believes that Duterte is healthy "but lazy".
"He does not carry out his duties to find a solution to the problems of the country, instead he is busy with disaster in Davao," he said.
Senators from the majority block had previously claimed that Duterte became ill.
Sen. Aquilino Pimentel III, Duterte's party model in PDP-Laban, said that Sison's statements about this matter should be taken seriously.
"The president is healthy, why believe in the report of someone hundreds of miles away in Europe?" Pimentel told reporters.
Sen. Cynthia Villar said she was in Daupta in Davao City last Friday and that the president was his usual self: angry with corrupt officials and meeting happy ordinary people.
"If you are the president, there will be a lot of stories that are expected, but I do not think this is true and we should not worry about it," said Villar.
# Unsuitable to be president & # 39;
Meanwhile, Sison believed that Duterte was "unfit" to be president because of his so-called "mental inability" and "moral depravity."
In a statement on the website of the National Democratic Front (NDF), Sison, the main political advisor to the organization, said that Duterte "is imposing a fascist dictatorship on the Philippine people".
"I agree with all the forces of the broad united front that Duterte is unfit for the position of president of even the semi-colonial and semifeudal state of large compasses, landlords and corrupt bureuacrats, not just because of his self-inflicted physical weaknesses. It is mainly because of his mental incompetence and especially because of his moral depravity in view of his crimes of mass murder, the building and plundering of drug kingdoms and his plan to impose a fascist dictatorship on the Philippine people, "Sison said.
Sison said that it is not only Duterte's darker than usual face and wobbly movements that give it away.
"The irrationality and self-irregularity of his rations as in the following about his mental and moral condition," said Sison. – With Paolo Romero, Jose Rodel Clapano
Source link