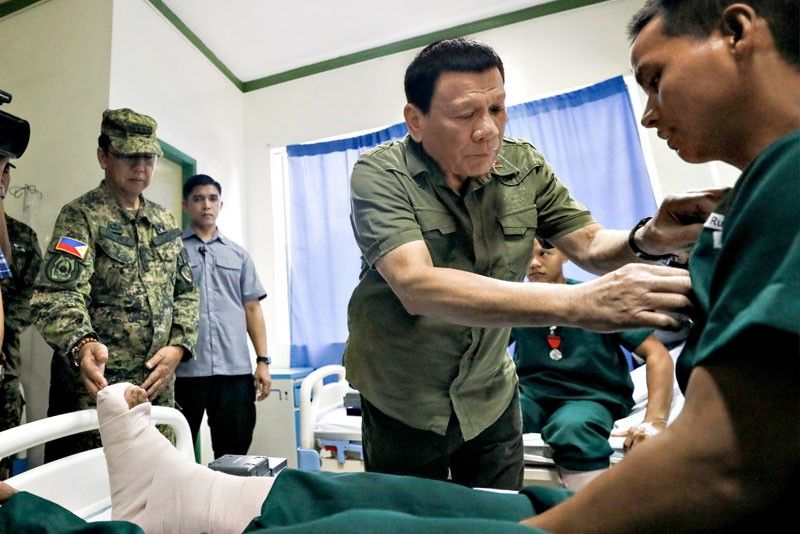 Duterte tells troops: destroy Islamic terrorists
(The Philippine Star) – 27 August 2018 – 12:00
MANILA, PHILIPPINES – President Duterte has instructed the army to "destroy and kill" extremists, who, according to him, have been bankrupted & # 39; endorse ideology.
"I assure you that you have my full support in carrying out intensive military operations against these terrorist groups, especially those endorsing the extremist ideologies of the Islamic State and al-Qaeda," the President told soldiers at Camp Teodulfo Bautista in Barangay Bus bus in Jolo, Sulu last Saturday.
"That's just a bankrupt … useless ideology, it just wants to kill and destroy, destroy and kill, so my order to you: destroy and kill too," he added.
Duterte is convinced that government troops can win their battle against security threats.
"Please know that I am very humbled by your dedication, inspired by your resilience and grateful for the continued support.With your courage, selflessness and patriotism, I am optimistic that one day we will defeat all threats to our democratic institutions and a better future. to secure our beloved country, "he said.
"All I can say with pride: you are not alone in this struggle, the Filipino people are standing next to you, and I stand by you every step of the way as we promote the common good and promote the security and security of our nation, "he added.
He reminded the soldiers to take care of himself during fights.
"Do not play an extraordinary hero Find cover … You only see that in the film Here every step of the way takes … first for your safety," Duterte said.
"I pray … for your safety, I ask God that you get protection, so that you can come home from time to time with your family," he added.
21 soldiers awarded
Duterte also granted the Order of Lapu-Lapu with a rank of Kampilan to 21 soldiers wounded in recent encounters with the Abu Sayyaf in Patikul, Sulu.
The president knew sergeant Wilmar Salde, Sgt. Jonathan Mamalompong, Sgt. Alejandro Bautista, Sgt. Agripino Pagauitan, Sgt. Randy Menor, Corporal Jeffrey Zippagan, Cpl. Jeramil Canipas, Cpl. Edward Tamangen Jr., Cpl. Arnel Walay, Cpl. Raffy Jay Hernal, Cpl. Joel Wawoc, Private First Class Delim Cawas, PFC Arnold Daria, PFC Raib Pannal, Private Leo Molina, Pvt. Ronnie Galinggan, Pvt. Jonel Ramiscal, Pvt. Jackson Ramos, Pvt. Ruben Ruping Jr., Pvt. Jobert Galas and Pvt. Jake Venezuela when he visited them at Camp Teodulfo Bautista Station Hospital last Saturday.
Duterte quoted their courage and sacrifices in the service of the country, told them that he admired them for their courage and patriotism, and assured them of the government's help.
The Chief Executive said he wanted all injured soldiers to be given medals, noting that they are in pain to fulfill their mandate.
"I've made the Lapu-Lapu Order, if it can hurt on a nail, how much more for a gunshot wound, so there should be a price," he said.
New army officers deployed
Meanwhile, the Philippine military announced yesterday the commitment of dozens of new 2nd Lieutenants to various national units to help fight the New People & Army (NPA) and terrorist groups in the country.
240 new officers – composed of 102 male and 37 female graduates from the "Alab Tala" class of the Philippine military academy in 2018, 88 male and 12 female graduates from the officer's candidate school "Adusque" class 49-17 and one graduate from the British army deployment Course 163 of the Royal Military Academy Sandhurst – was officially presented last Friday in a simple broadcast ceremony in Fort Bonifacio.
Philippine army, commander Major General Chad Isleta, led the activity together with other officials, civilian personnel and the families of the new officers to show their infinite support and motivation.
"I commend everyone for having chosen the Philippine army and are willing to accept the challenges that our profession entails, even if this means voluntarily leaving your family, friends, and loved ones behind for greater protect family – Filipino citizenship Be proud that you are now part of a force that quickly transforms into a world-class organization, "he told the troops.
Army spokesperson Lt. Col. Louie Villanueva said that a large proportion of the new officers in various army field units will be deployed to reinforce leadership at tactical level, which is essential to undermine the various threats that plague the country, especially insurgency and terrorism.
IS becoming a covert worldwide network
Despite a large loss of territory, there are still around 20,000 Islamic State fighters in both Iraq and Syria, and a core of fighters is expected to survive and continue the group's dangerous transformation to a hidden global network, while the emphasis is on the activities of its regional offshoots, according to a new report from the United Nations on the threats of IS presented to the Security Council last Thursday by senior UN counterterrorism officers. – Alexis Romero, Edith Regalado, Michael Punongbayan, Pia Lee-Brago
Source link