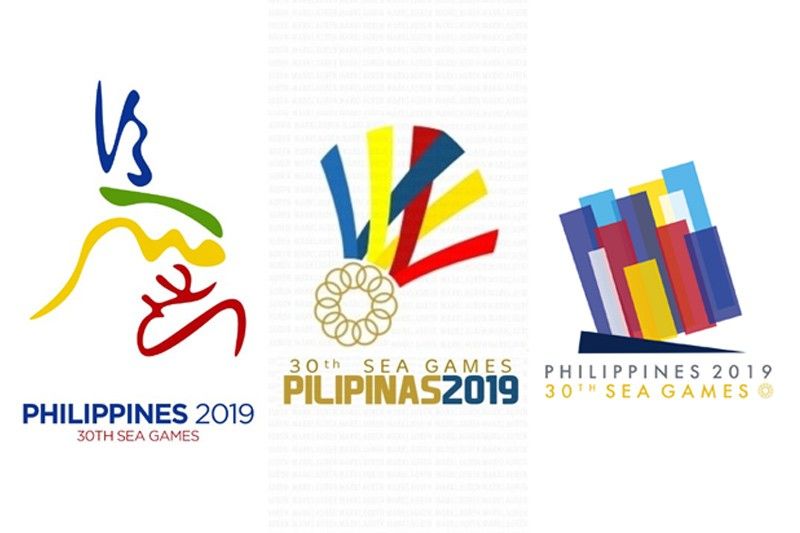 Graphic designers commemorate 2019 SEA Games logo
MANILA, Philippines – Filipino netizens reacted quickly when Secretary of State Alan Peter Cayetano presented the Philippines logo for the hosting of the Southeast Asian Games in 2019.
The Philippine top diplomat presented the logo during the 37th Olympic Council of Asia General Assembly in Jakarta, Indonesia last Sunday.
"Our logo is the 11 circles representing the 11 countries that are bound together in the shape of the Philippines to symbolize that where and when the games are played, we are one and we win as one," said Cayetano.
However, Netizens was not happy with the logo, as well as the mascot designs, and came up with its own proposals.
There are so many ways you can make a logo. Without going out of concept and color, here you go Philippines.

That is Baybayin for "SEA" by the way.

Bayaran niyo after a long time. pic.twitter.com/pLoN4MJfkF

– bob freking (@bobfreking) August 20, 2018
Philippine 2019 Sea Games logo mockup.

Did this in less than 15 minutes. The official seems that we have not even bothered. Shame. pic.twitter.com/P8z66Gc89j

-? (@raphaelmiguel) August 20, 2018
Philippine SEA Games organizer, this logo is better. The games are in the first week of December next year. This is about the Pampanga parol, a symbol of celebration. Look, if this will be used, some attendees might buy and take them to their own country. To think! pic.twitter.com/anEDbk7gDn

– Miyako Izabel (@sejoalzir) August 20, 2018
Since sobrang gigil ko sa logo ng 2019 SEA Games I have tried to make one. I'm not great in graphic design, but I want to try it …. Mukha ba siyang minimalistic eagle .. 🙁 haha #artph activated ako that I have channeled my stress and faults here: pic.twitter.com/xwbB7ML4Jo

– Luis (@luisddomingo) August 20, 2018
some PH sea games 2019 logo rough sketches ft. the gimmicky anahawXperlas balahura charooootttt #artph pic.twitter.com/SQWQFJd2fI

– maca (@_macabeo) August 20, 2018
So the SEA Games (South East Asian Games) 2019 logo is officially released and unfortunately it gets mixed reactions online. That is why this is what I came up with.# SEAGames2019 # Philippines2019 #See games #Sipa #LaroNgLahi #LarongPinoyToTheWorld #TeamPhilippines pic.twitter.com/sYCkYlfPje

– Mark Lauren (Mhernandezmark) August 21, 2018
So here is my opinion about the 30th SEA Games logo. I call it, "The Vinta & # 39; s Flame." This logo is inspired by two things; a vinta, a traditional Philippine boat from Mindanao; and the SEA Games Flame / Cauldron that illuminates the entire duration of the games. # SEAGames2019 pic.twitter.com/Dkr1YyeMbj

– EL / Luis Miguel (@elsplanet) August 21, 2018
My version of SEA GAMES LOGO

Blazing Philippine Eagle

The eagle symbolizes strength and strength. It has 10 feathers representing the 10 countries participating in the event and the head symbolizes the host country. Blaze, symbolizes fire as the beginning of something. # SEAGames2019 pic.twitter.com/gd9YWsL8IA

– Kendrick Lamarr (@kvpingkian) August 21, 2018
My own purchase of SEA GAMES LOGO

Pearl of the oriental sea inspired.

I used the solar rays of our Filipino flag to represent the purity, sportiness, integrity plus dignity and calm of the South Sea bead or Philippine pearl. # SEAGames2019 pic.twitter.com/bii8JtRitV

– K L I N E (@klpotente) August 21, 2018
Netizens also compared the previous SEA Games logo with the proposed design of the Philippines for next year.
The last three SEA Games logo & # 39; s versus the proposed logo's for next year.

We did not even look like we were trying. pic.twitter.com/s9W5a2YQXn

– paco s. (@fmrsantiago) August 20, 2018
Anyare, Pilipinas? Report 2005 vs. sea ​​game 2019! We can do better than this! pic.twitter.com/FEGqQA3mDl

– michael san diego (@ mikkoletz17) August 20, 2018
And do not let me start with the mascots from SEA Games.

2013: Shwe Yoe and Ma Tired the owls
2015: Nila, the lion
2017: Rimau the tiger
2019: Not sure if stock charts or characters from a low-budget cartoon pic.twitter.com/galmYOFBmL

– paco s. (@fmrsantiago) August 20, 2018
Previous SEA Games logo & # 39; s (via 2019 SEA Games / FB) and the logo for the regional meeting next year here in Manila (pinag-isipan eh!) Bravo! #magkano pic.twitter.com/3JNqiSiwWY

– The Professional Heckler (@ hecklerforever8) August 20, 2018
The Philippines hosted the SEA Games for the last time in 2005 and added arnis, a demonstration sport in 2003. The country was in first place in the general classification in 2005 with 113 gold medals.
More than 30 sports are played in the 2019 SEA Games in the Philippines, including arnis, athletics, water sports, archery, badminton, baseball / softball, basketball, billiards, bowling, boxing, cycling, equestrian / polo, fencing, football, golf, gymnastics, judo / jiujitsu, karatedo, sailing, sepak takraw, shooting, squash, taekwondo, triathlon, volleyball, weightlifting, wrestling / kurash, wushu, arnis, dance pass and muay.
Source link