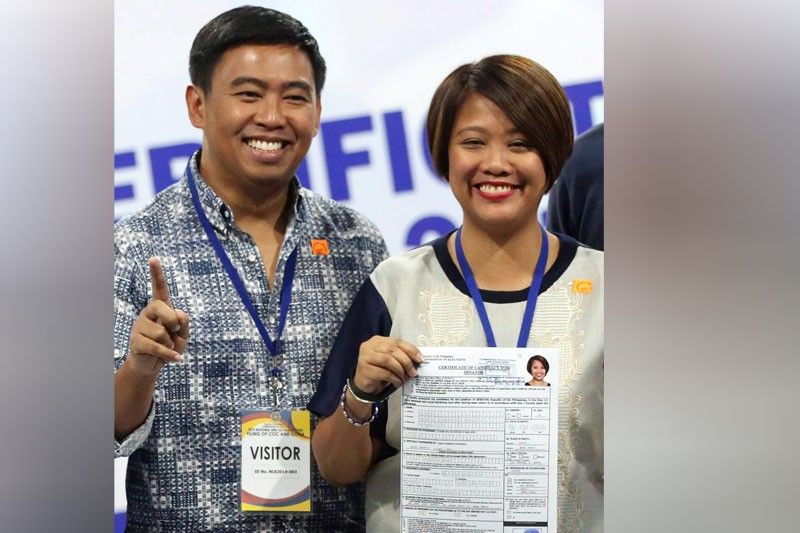 MANILA, PHILIPPINES – Former Makati mayor Jejomar "Junjun" Binay can be called a public office in the 2019 interim polls, despite the burial charges he faces, the Commission said about elections (Comelec) yesterday.
James Jimenez, Comelec's spokesman, said that Binay can search for the city's mayor post unless there is a final conviction on his pending cases.
The Comelec would examine the details of Binay's conviction by the Office of the Ombudsman, which led to his alleged disqualification of next year's elections, Jimenez said.
He made the statement in the midst of questions concerning the eligibility of Binay, which was on the list of the Ministry of the Interior and Local Government as one of those who were disqualified for participation in the elections.
"Unless there is a judicial decision that is final and enforceable, a candidate can not be excluded from looking for a public function," Jimenez said.
Sixto Brillantes, lawyer for Binay and former Comelec chairman, said the former mayor can still participate in next year's elections.
"There is no legal obstacle when Junjun decides to flee for mayor Makati again because he has not been convicted for one of the two cases that have been filed against him," Brillantes said.
"One of the cases was reversed, there is no final conviction in the other case, so there is no reason for disqualification, as simple as that," he added.
The former mayor was found guilty of serious dishonesty and serious misconduct by the Ombudsman's Office in connection with the P1.3 billion Makati Science High School building.
Binay was dismissed from the service and could no longer hold a public office.
However, the Court of Appeal reversed the Ombudsman's decision in 2016, citing the Condonation Doctrine & # 39 ;, which prohibits the administrative disciplining of eligible officers for crimes committed during their immediate previous period.
He is faced with another complaint about the entity regarding the reportedly abnormal P2.2 billion Makati City Hall building 2 project.
Binay's lawyer, JM Mendoza, said the case in question could not be used to prevent the former mayor from invoking his position.
"The decision of the Office of the Ombudsman in connection with the construction of the Makati Science High School building is on appeal and therefore not definitive and practicable," Mendoza said.
"He is not disqualified for performing a public office under Section 40 (b) of the Local Government Code," he added.
Mendoza said that any report that claims Binay is disqualified for conducting "is misleading and inaccurate."
Rivalry between brothers and sisters
Amidst the rivalry between Binay and his sister, Mayor Abby Binay-Campos, the former mayor accompanied his other sister, Sen. Nancy Binay, when she submitted her certificate of candidacy (COC) for re-election yesterday at the Comelec office in Intramuros, Manila.
Binay said earlier that he is ready to challenge Abby's re-election bid, if there is a public argument about it.
"When our parents come back from abroad this weekend, the family will discuss the problem, and let's hold on to this Binay versus Binay scenario until we've discussed it," Nancy told reporters.
The senator expressed confidence that the conflict between her brothers and sisters would be resolved.
Isko versus Erap, Lim
Former social secretary of state Isko Moreno yesterday filed his COC with the mayor of Manila.
Moreno will be charged against the incumbent mayor Joseph Estrada and former mayor Alfredo Lim.
Estrada welcomed the candidacy of Moreno.
"It is part of democracy and everyone can run for a choice position," Estrada said.
Moreno, who served as mayor of Estrada, likened himself to "David" and his opponents as "Goliaths."
He submitted his candidacy to his runner, Vice Mayor Honey Lacuna, and his candidates for council members.
Estrada's daughter, Jerika Ejercito, also served her COC as alderman of the fourth district of Manila.
Onofre Estrada, not related to the mayor, also served his COC for mayor.
Malapitan is looking for re-election
In Caloocan City, Mayor Oscar Malapitan will run for the third and final term in next year's elections.
Malapitan filed his COC yesterday at the Comelec office in North Caloocan.
He said he would concentrate on job creation and the construction of a larger city prison and hall of justice if he was re-elected.
Malapitan was accompanied by his running mate Vice Mayor Macario Asistio; First District Rep. Along Malapitan; District 1 Councilors PJ Malonzo, Dean Asistio, Jay Africa, Vincent Malapitan, Alou Nubla and Karina Teh; and District 2 Council members LA Asistio, Chito Abel, Rose Mercado, Obet Samson, Doc Alex Aruelo and Carding Bagus.
Former mayor of Caloocan, Enrico Echiverri, is reportedly looking for a congressman against the son of Malapitan, Along.
More Calixto & # 39; s walking
In Pasay there will be four members of the Calixto family next year for various positions.
Rep. Imelda Calixto-Rubiano will run for the mayor to replace her brother, Mayor Tony Calixto, who is on his last term.
Cesar Cuneta, the brother of actress Sharon Cuneta, runs mayor against Rubiano under the nationalist people's coalition.
Calixto will in turn search for the city's only congress district.
His son Mark and cousin Joey Calixto-Isidro are running for council members from District 1 and District 2, respectively.
QC legislator will not work
Rep. Winnie Castelo from the second district of Quezon City is no longer running to the vice mayor at next year's election.
"I announce that I no longer continue my plans to work outside my district My dream and vision to build a world-class Quezon City will go as planned, in whatever capacity I may take later," he in a statement.
Castelo is on his last term as a congressman. He announced his decision one day after candidates for mayor and vice mayor in the city had submitted their COCs.
Deputy mayor Joy Belmonte is looking for the mayor's post, with councilor Gian Carlo Sotto as her companion.
Immigration representative Marc Red Mariñas announced his resignation from his position to participate in the mayoral race in Muntinlupa City.
Mariñas, 43, will run against mayor Jaime Fresnedi, who is expected to seek re-election. – With Jose Rodel Clapano, Rey Galupo, Ghio Ong, Jess Diaz, Evelyn Macairan
Source link