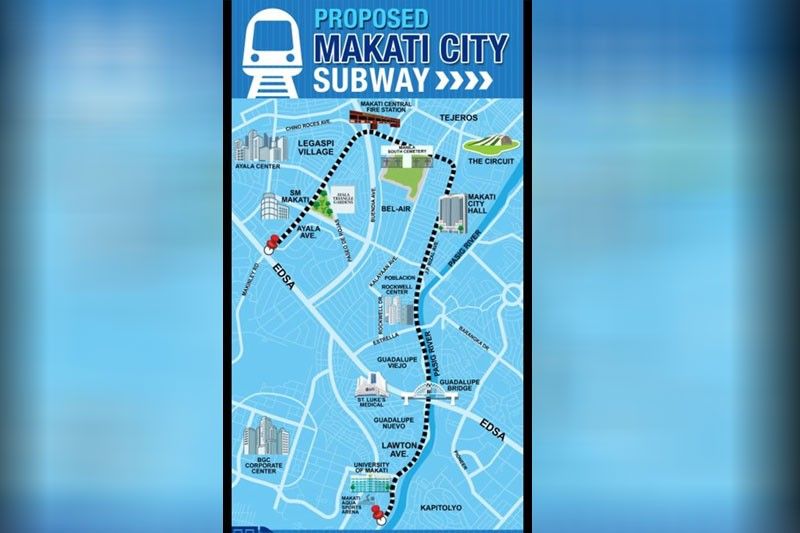 Makati metro to break ground by December
Iris Gonzales (The Philippine Star) – 27 August 2018 – 12:00
MANILA, Philippines – Supporters of the Makati Intra-City Subway project, which costs $ 3.7 billion, want to get off the ground in December and have already attracted four state-owned companies from China to build the giant network.
"Four state-owned companies are interested in the EPC (engineering, purchasing, construction)," said Antonio Tiu, chairman of listed IRC Properties Inc, project chairman.
Tiu said of the four interested parties, IRC can choose two to build the proposed 11-kilometer inner city mass transport system with up to 10 stations connecting the main points in Makati's districts.
The unsolicited proposal, which was submitted to the city of Makati last May, connects important points in Makati City such as the current Central Business District along Ayala Avenue, Makati City Hall, the Poblacion Heritage Site, the University of Makati, Ospital ng Makati and the other new business districts in the city.
Tiu said that they are now in conversation with various developers such as the Ayala Group for a seamless connection with their areas.
The proposed metro system will include a maximum of ten air-conditioned, underground island stations that can accommodate up to six car trains, with a space for more than 200 people per car, according to Tiu.
More than 700,000 passengers per day are expected to be accommodated and served by the mass transport system.
It has potential exchanges or connections with other mass transport systems such as the MRT, the Pasig River ferry and the Metro Manila subway funded by JICA, Tiu said.
Funding for the $ 3.7 billion project may come from a syndicate of foreign loans.
At the same time, Tiu said that local banks have offered to provide long-term loans in peso.
The unsolicited proposal is now ready to be subjected to a Swiss challenge after IRC has received the go signal from the local government.
"IRC wishes to inform the investor public that under Makati City Regulation 2014-051 or the PPP code City of Makati", as amended by Makati City Ordinance No. 2017-017, today a joint certification has been executed between the city of Makati Government and IRC, which confirms, among other things, that IRC can participate as an original proponent of the unsolicited proposal and the competitive / Swiss challenges process, "IRC said in a disclosure last month.
Last May, Makati City Mayor Abby Binay said she received the unsolicited proposal that, according to Makati, would provide a fast and efficient transport system.
The proposed transport system is seen as a complement to the mass transport projects of the national government because it would be connected to the MRT stations, the proposed Metro Manila Mega-metro and the ferry from the Pasig River.
IRC has recently submitted an application to increase the authorized capital from P1.5 billion to P19.5 billion while the project is being implemented.
Source link