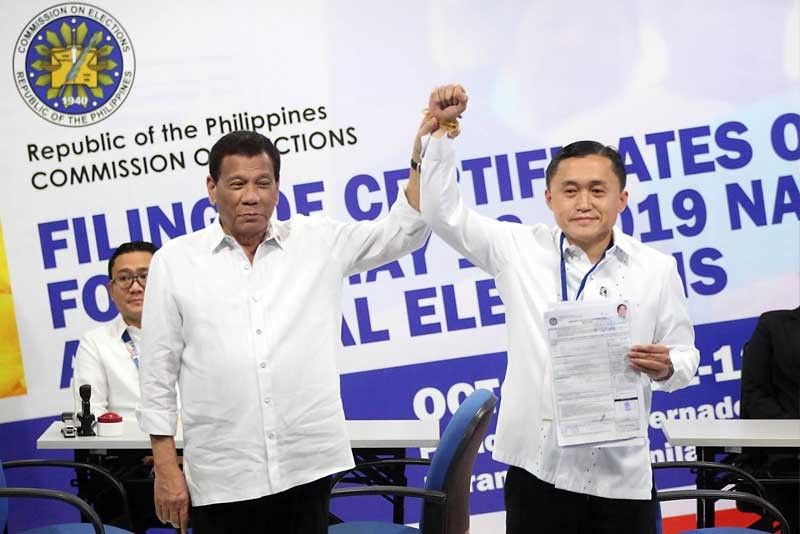 No government funds for manager betting – Duterte
Alexis Romero (The Philippine Star) – October 16, 2018 – 12:00
• Honest 2019 polls promised
• AFP ordered to stay out of politics
MANILA, Philippines – No candidate can use state resources during the campaign period, President Duterte said yesterday when he told the security services to remain non-partisan and to work for fair elections.
"Nobody, except nobody, can use government funds, not even Bong," said Duterte, referring to former presidential assistant Christopher Go by his nickname, "I do not allow it."
At the change of command ceremony at the military in Fort Bonifacio, Duterte told the troops: "Let's get a deal here." "Promise – you make a commitment to the Philippine people: this election, we will all be strictly neutral." the police and the uniformed staff of the government – I ask you not to take part in partisan politics, and we will not support anyone. "
Go, who served as Duterte's best assistant for more than two decades, submitted his certificate of candidacy to the Senator yesterday and joined the President at the Army Meeting.
While refraining from directly approving Go – an act that is not allowed in military camps – Duterte spoke extensively about his old assistant.
"Bong is no longer my assistant, and as soon as he signed the certificate of candidacy, he was no longer a government official," Duterte said.
Go, which was very visible during governmental events and whose photos are decorated with tarpaulins and posters throughout the country, has been accused of using state resources to advance his own political ambition.
The former presidential assistant denied the claim and claimed that his supporters are behind the distribution and distribution of those materials. Go has called his supporters to bring posters and tarpaulins with his image.
Duterte said that a communist rebel shot Go's grandfather in his face while the latter was playing golf.
"That gives you an idea of ​​his (Go) sentiments, Wala akong sinasabi after magboto kayo (I'm not asking you to vote for him)," he added.
As Commander-in-Chief of the Armed Forces, Duterte said he would support candidates because the presidency is a political position.
"But I expect everyone to respect the constitutional prohibition, it is good, it is good for the country, and I have now announced that we will make a promise: there will be elections and it will be fair," said the president, referring to the constitutional provision that stops uniform services from side with politicians.
"I hate to talk about politics in a crowd like this, it's about devotion to democratic ideals, one of which is that military and uniformed police personnel should not, should not give in to politics," he added.
Duterte said that during the election season he had never entered military camps when he was still mayor of Davao City. Duterte was mayor of the southern city for 23 years.
"There will never be a time when I will talk to you … I may have a very bad mouth, but you know my values ​​are pretty good, especially when it provokes the exercise of delicadeza," the president said. "But I value friendship, I value loyalty."
Source link