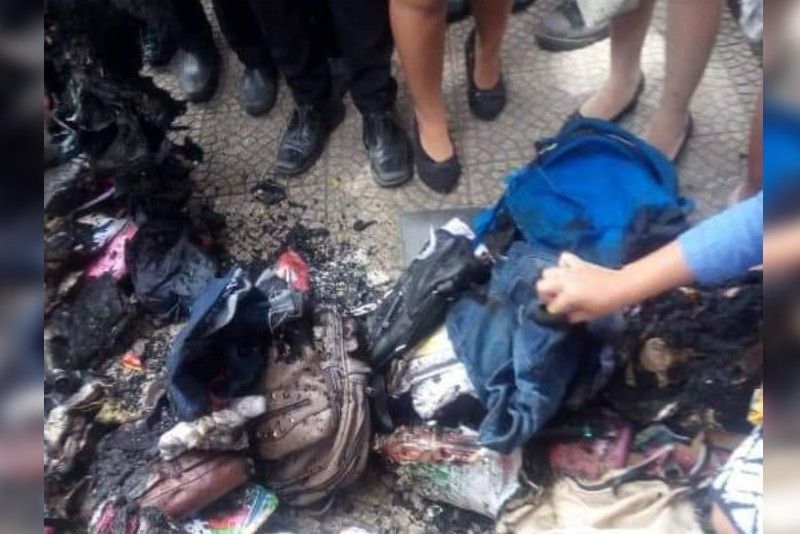 Parents urged Bicol school to submit complaints about bag burning & # 39;
Gaea Katreena Cabico (philstar.com) – 20 August 2018 – 13:54
MANILA, PHILIPPINES – Although the Ministry of Education is already investigating reports of a school administrator who takes bags and other items confiscated by students from a Camarines Sur school, the parents of the students must also submit their own complaints.
A video that went viral during the weekend showed students from Bicol Central Academy, a private school, while their confiscated bags went up in flames. The bags were burned alledly because the school has a no-bag policy.
The administrator would have ordered the destruction of bags with school items, clothing and gadgets such as mobile phones and laptops.
DepEd said in a statement that Minister Leonor Briones instructed his regional office to conduct a thorough investigation.
"[T]BCA school administrator called Camarines Sur's Schools Division Superintendent to explain the 18 August incident, a written response that the Education Office has requested, "DepEd said.
If the accountability of the administrator has been established, the department can cancel or revoke the school permit to work and disqualify the school from participating in the Certificate Service Contracting and Senior High School Voucher Program.
Another possible sanction is the non-issuance of a tax exemption recommendation such as import duties.
DepEd has also advised the parents of the students involved to file complaints or administrative accusations against the school administrator with the appropriate authorities.
"While the DepEd & # 39; s Child Protection Policy requires a complaint for child abuse or violence to be filed with the headmaster of private schools, parents of the affected students are advised to file complaints or administrative accusations against the school administrator with the appropriate authorities," the.
In a separate statement, DepEd Region V Regional Director Gilbert Sadsad said: "There was a clear manifestation of child abuse and a violation of our child protection policy."
The video caught the angry administrator screaming at students and calling them dumb while the flames flooded the bags.
DepEd promised a fair and honest investigation, because it recommended that the school board go on leave.
"The department is committed to the full and reinforced implementation of the child protection policy and to ensure that students are in a school environment that does not dismiss their rights, safety and dignity," said DepEd.
It added: "We will not hesitate to impose the necessary sanctions on those who have been proven to have violated this policy."
Source link