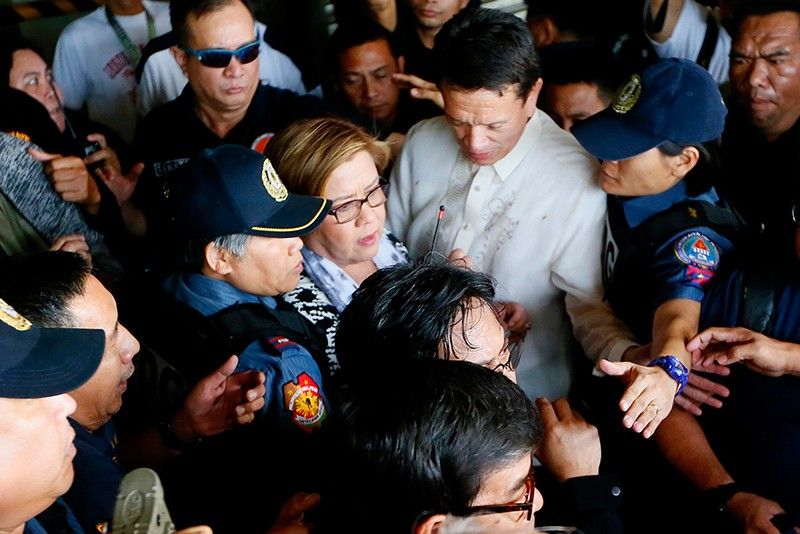 SC junkies De Lima appeals to the oral arguments of ICC
Kristine Joy Patag (philstar.com) – August 24, 2018 – 10:23 am
MANILA, PHILIPPINES – The Supreme Court has successfully denied Senate Leila De Lima's plea to personally submit a petition by Senators of minorities who are challenging the withdrawal of the country from the International Criminal Court.
According to SC's public information office, the Supreme Court voted 10-3 to reject De Lima's appeal.
"The Court, by denying the petitioner's motion to reconsider, found that no new argument had been put forward to justify a reconsideration of his previous resolution," the statement said.
By denying the petition of De Lima on 7 August, the SC said that her ability to "appear as a participant in the case" must give way to the fundamental limitations of her freedom that her current detention entails. "
De Lima submitted a request for reconsideration on 17 August. She quoted the dissenting opinion of Senior Associate Justice Antonio Carpio, where he believed that the compensation for arrested persons was extended for less compelling reasons, such as extended Christmas holidays.
"Compared to this, a few hours the opportunity to speak for the Honorable Court and to advocate a case of transcendental importance is certainly not too much to ask," said the senator.
Carpio and Associate Justice Francis Jardeleza maintained their aversion to the original ruling.
Associate Justice Alfredo Benjamin Caguioa, who was on leave when the issue was raised for the first time in August 7, also deviating from the majority,
Oral arguments about the case will continue on Tuesday, 14:00, the SC PIO added.
Senators also appeal
The co-submitters of De Lima, Sens. Francis Pangilinan, Franklin Drilon, Paolo Benigno Aquino IV, Leila De Lima, Risa Hontiveros and Antonio Trillanes IV also appealed to the case of the detained senator.
In a separate motion for reconsideration, the senators offered that as an alternative, the Lima could "appear in person and represent themselves during the oral arguments via live video and / or audio feed."
This must meet the court's concerns about the current detention of De Lima, according to the senators. They will also provide the necessary equipment and facilities if allowed by the High Tribunal.
According to the document sent by Pangilinan's office, the Supreme Court received the motion for reconsideration on Thursday, 23 August.
In the media message that the SC PIO sent Friday morning, the senators' appeal was not mentioned.
The senators of the minorities asked the tribunal to declare the withdrawal of the country as a state party to the Rome Statue as "invalid or ineffective" due to lack of concurrence of the Senate.
Although senate competition is needed in the ratification of treaties, the palace has argued that withdrawal of them falls within the prerogative of the president.
Source link