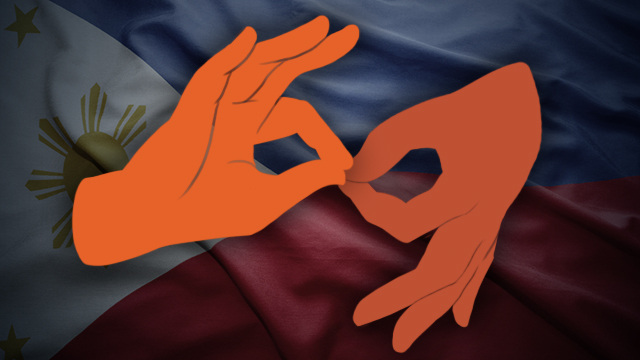 Senate Bill 1455 aims to establish FSL as the official language of the deaf community in order to promote their identity, expression and communication & # 39 ;.

MANILA, PHILIPPINES – The Senate approved the 3rd and final reading of the bill to declare Philippine Sign Language (FSL) as the official medium of instruction and communication in the Philippines.
Senate bill (SB) 1455, sponsored by Senator Paolo Benigno Aquino IV, aims to make FSL the official language of the deaf community to "promote their identity, expression and communication." It was passed by unanimity of 20 votes on Tuesday, August 28.
"The use of sign language in the Philippines dates back to 1596. FSL has since evolved into an effective visual language that has been well researched, based on Philippine culture and history, and even includes indigenous elements," Aquino said in a statement.
What the bill wants: If the bill becomes law, FSL will be used as an instruction method in schools for the training of deaf students. A separate course that FSL would teach to deaf pupils would also be included in school curricula.
FSL will also be the official communication mode used in government transactions involving deaf people. This is facilitated by FSL-trained interpreters who are posted at government offices.
According to Aquino, the use of FSL in government transactions will significantly help the deaf Filipinos to have a "fair share" in the country's legal system, particularly in the courts and police stations.
The proposed bill will also make FSL an official means of interpretation in broadcast media for doping & # 39; Provide news and information to the deaf community.
To do this, the Komisyon sa Wikang Filipino (KWP), the Kapisanan ng mga Brodkaster ng Pilipinas (KBP), the Review and Classification Board (MTRCB) for film and television (MTRCB) are designed to create national standards for interpreting from FSL in media.
Why this is important: Senator Nancy Binay, co-sponsor of the bill, said that with FSL recognized as an official way of communicating in the Philippines, Filipinos who are hearing impaired can exercise their right to expression and opinion without prejudice.
"The state must recognize and promote the use of sign languages ​​that embody the specific cultural and linguistic identity of the Filipino deaf," said Binay.
SB 1455 co-authored Senators Francis Escudero, Loren Legarda, Joel Vullanueva and Juan Miguel Zubiri. – Rappler.com
Source link