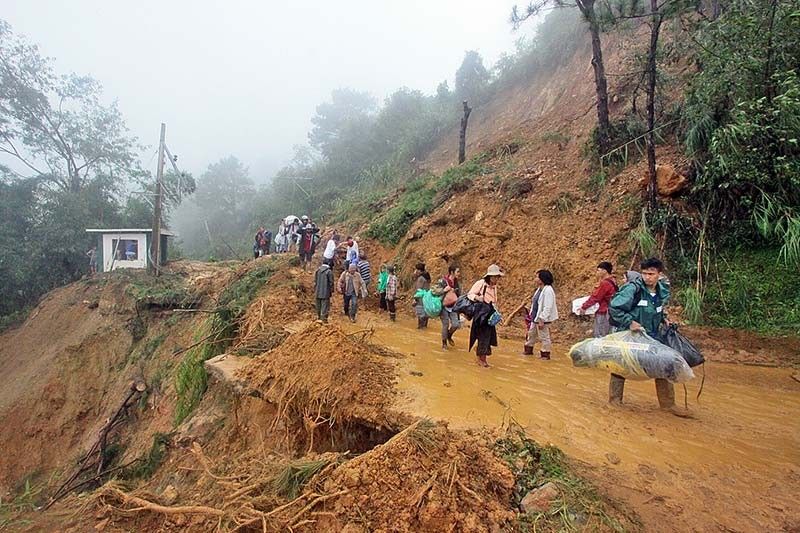 To end the mining industry, Duterte says that Congress must withdraw the law that allows it
Alexis Romero (philstar.com) – September 17, 2018 – 10:11 am
MANILA, PHILIPPINES – The Congress must repeal the Philippine mining law to put an end to mining, which has caused environmental damage and caused deadly landslides, President Rodrigo Duterte said Monday.
At a meeting after a disaster in Benguet, Duterte accused the mining industry of the landslides, which he said "it has caused much heartache to the Filipino people."
"If we can not end mining because of the law, to end mining … Congress will have to abolish the law," Duterte said.
"Mining has been uncontrolled in this country," he added.
Typhoon Ompong has killed more than 60 people, most of them from landslides affecting the Cordillera region. Duterte said the Philippines are faced with a "double whammy" because of the landslides caused by mining, noting that the location of the country makes it vulnerable to typhoons.
"The mining industry, it has not really contributed to the national economy … I admit that we earn P70 billion a year … Ultimately, how much do you lose in the process?" said the president.
Duterte said it is time for the environmental service to "take a second look" at the "dangerous open mining."
Last July, Duterte said he was keen to ban open-pit mines, and said that the method has caused massive environmental destruction and landslides.
In 2016, the environmental service under former secretary Gina Lopez implemented a ban on open mining, convinced that the residues related to mine technology caused disasters. She also ordered the closure of more than 20 mining companies that break the environmental rules.
Last year Duterte ignored a recommendation from the interagency The Mining Industry Coordinating Council to lift the ban on open mining, saying that the method destroys the environment and displaces the fishermen.
Last Sunday, Duterte said that the Philippines had to "take a stand on mining" within the year, but did not elaborate on it.
Source link