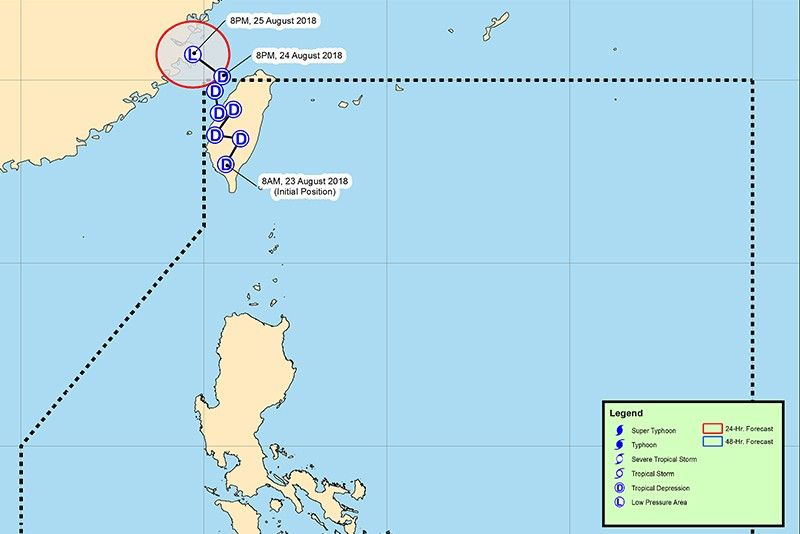 Tropical Depression Luis leaves PAR, habagat will improve
(philstar.com) – August 25, 2018 – 11:04 am
MANILA, Philippines – Tropical Depression Luis has left the Philippine area of ​​responsibility, but it will continue to improve the southwestern monsoon (habagat) that will cause scattered, moderate to heavy rains in some parts of the country, reported the State Weather Office.
At 10 o'clock in the evening. Friday, "Luis" was spotted 55 kilometers northwest of Basco, Batanes or outside PAR. On Saturday at 3:00 am the tropical depression was located 595 km northwest of the far north of Luzon, with a maximum sustained wind of 45 kilometers per hour and a speed of up to 70 km / hour.
Luis moves with 8 km / h to the northeast.
According to Philippine Atmospheric, Geophysical and Astronomical Services Administration, or PAGASA, the southwestern monsoon fortified by "Luis" will affect the western part of Luzon.
In his 4 a.m. weather forecast Saturday, PAGASA said that Ilocos Region, the administrative region of Cordillera, Batanes, the Babuyan Group of Islands, Zambales and Bataan will experience monsoon rains that can cause possible flooding and landslides.
Meanwhile, Metro Manila, the rest of Central Luzon and Cagayan Valley Region, Calabarzon and Mindoro provinces can expect cloudy skies with scattered rains and thunderstorms due to habagat, while localized thunderstorms bring partly cloudy to cloudy skies with isolated rain showers over the rest of the country.
Source link