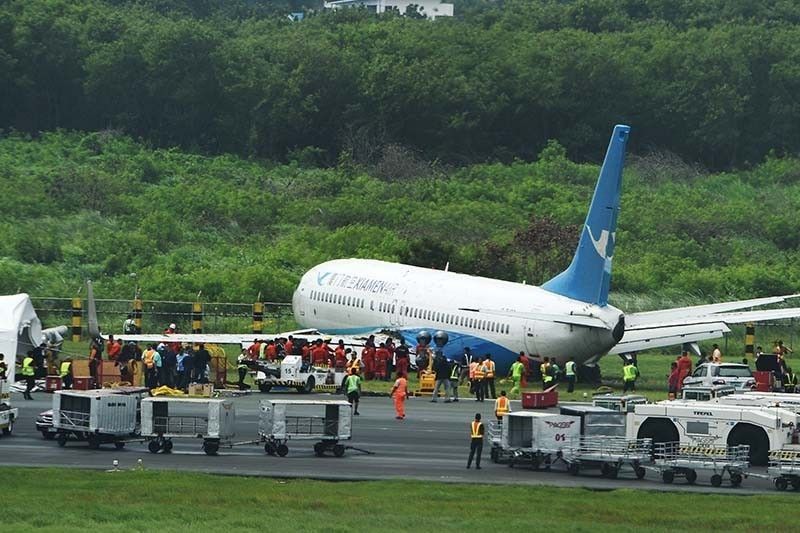 MANILA, PHILIPPINES – Xiamen Air in China yesterday apologized to all passengers affected by the plane that slipped during the landing at the Ninoy Aquino International Airport (NAIA) last Thursday evening, and committed to "do everything in its power" to to help those affected.
But an apology from the airlines is not enough, Malacañang said, while promising to investigate whether the pilot of the plane that went past the runway at NAIA last week has obligations.
"It is not just an apology that we will ask, we are now conducting an investigation if there is any liability on the part of the Xiamen pilot, which is why he was asked not to leave the country, which is part of an ongoing investigation, "said president-spokesman Harry Roque Jr. in a press conference.
Roque said that the investigators would investigate all kinds of possible liabilities, including those that could lead to the payment of compensation.
"If there are delays, airlines and airport authorities might have to decide to cancel flights, so there would be no pressure at the airport … But of course we welcome any kind of research." "It happens not often in NAIA, thank goodness So we could always learn from this experience, "Roque said.
From 4:15 PM in the morning, Xiamen Air said that seven of its planes flying to Manila have returned, bringing a total of 1,113 passengers back to China.
"(Xiamen) will continuously send four aircraft from Fujian to Manila to bring back more passengers," the airlines added.
For its part, the manager of the International Airport Authority of Manila, MIAA, said that yesterday morning he met an eleven-man delegation from Xiamen for a "exchange of problems and worries."
"They have offered their sincere apologies," Monreal said. "I suggested to them that they came up with a statement for (Filipinos) who were affected, as a matter of sharing their feelings."
Apart from the apology statement, Monreal said that he urged Xiamen Air to offer small items, such as food, to passengers who were still stranded in the airport.
"I suggested, what they agreed and confirmed, that to accept the passengers or people and show their sincerity, I asked them for pennies, small items that these people would appreciate as food, and they said they would stick to it "said Monreal.
Monreal added that Xiamen is waiting a hefty fine, including compensation. However, he said that the list of accusations is quite long and still needs to be calculated.
The official said that during his meeting yesterday morning he had informed Xiamen officials about the fines.
Monreal said that MIAA replaced the damaged lights at the edge of the runway because they are indispensable during the take-off and landing of aircraft.
Reports also showed that pilots and crew were found negative for drugs and alcohol after their tests as required by the International Civil Aviation Organization (ICAO).
Meanwhile, the Civil Aviation Authority of the Philippines (CAAP) said it takes the matter seriously, recognizing that the accident has caused not only passenger casualties of Xiamen Air, but also inconvenience and inconvenience to NAIA passengers and airlines whose flights have been canceled, diverted and delayed.
The CAAP said it respected ICAO standards, processes and policies to address the problem.
Effect on OFW & # 39; s
Senators have urged relevant agencies to intercede for overseas Filipino workers (OFWs) who are at risk of losing their jobs and ensuring that stranded passengers are compensated for their problems.
Senators Francis Escudero and Cynthia Villar have said in separate interviews that the Ministry of Foreign Affairs (DFA) and the Overseas Workers Welfare Administration (OWWA) must provide assistance to OFW & # 39; s affected by the incident.
"I call on the DFA and the OWWA to assist OFWs that are affected by these delays." Help with airline booking and with their employers to help explain the delay and ensure that they are not stopped, said Escudero.
According to Escudero, it is within the rights of the passengers to be compensated for the problems caused by the incident, especially for the OFWs who are now afraid to lose their jobs because they are not on time to their country of employment can return.
Villar said the DFA should mediate for the OFWs, which run the risk of their employment contracts being declared void because they are unable to report on time for their work.
"I'm sure the employers will understand," Villar told reporters.
Escudero and Sen. Grace Poe, who will lead the Senate's investigation into the paralysis of the NAIA next week, also said that stranded passengers should be reasonably compensated.
Escudero said according to Section 11.2 of the Joint DOTC-DTI Administrative Order No. 1-series of 2012, also known as the Air Passenger Bill of Rights, "when a flight is canceled due to force majeure, safety / security reasons, a passenger will be entitled to reimbursement of the full value of the fare."
"The government must also find a way to compensate passengers for damages caused by these excessive delays, especially in cases of non-refundable tickets, missed connecting flights and additional deposits," he said.
Poe noted that airport authorities and airlines had failed to properly inform passengers about the status of their flights and failed to provide them with reasonable comfort while remaining behind at several affected airports.
OWWA chief Hans Cacdac said that they would support the stranded employees in the labor and foreign affairs departments, so that they could explain the delay in their arrival.
He added that recruitment agencies also provided assistance to the stranded employees.
The Ministry of Labor and Employment states that stranded OFWs can also seek help from the NAIA's assistance center.
An official of the Philippine Catholic Bishops' Conference (CBCP) yesterday agreed with OWWA because he also urged the DFA and his embassies to explain to the labor ministers of other countries the predicament of the OFWs & # 39; s those days stranded at NAIA delayed return to work.
In an interview with the Church-led Radio Veritas, CBCP Episcopal Committee for Migrants and Outpatients called on Bataan Bishop Ruperto Santos to help government agencies involved to help the OFWs who were struck by the mess at NAIA.
The CBCP officer also called on airlines to give priority to OFW passengers and allow them to be one of the first to board their aircraft and take them to their destination country.
National shame
"There must be layoffs here from delicadeza (sense of decency) Heads should roll here We can not only be an international shame Those who run the airport must be held accountable, civil or non-punishable," stated Quezon City Rep. Winston Castelo yesterday.
"An in-depth and extensive investigation needs to be done to prevent another similar incident: the lack of foresight, absence of unforeseen circumstances and the unavailability of a crane and no emergency plan should now be addressed," he told reporters during a newsletter.
House responsible speaker Prospero Pichay and representatives Ben Evardone from East Samar and Jericho Nograles from party list Puwersa ng Bayaning Atleta made similar statements, and called upon the NAIA management to dig deeper into the incident.
The House Committee on Transportation led by Catanduanes Rep. Cesar Sarmiento has planned an investigation to support the legislation on the issue on 5 September.
Pichay reverberated the growing sentiment to further develop the Clark International Airport in Pampanga and create new airports to relieve NAIA, as well as the proposal to set up an airport in the nearby Bulacan province.
Nograles called on the leadership of the Department of Transportation (DOTr) under Secretary Arthur Tugade to "give priority to the purchase of much-needed equipment in order not to disturb our economy".
Do not give up on NAIA
This is not the time to give up NAIA, the main international gateway to the country, despite the incident Thursday night, told the source of the airport industry to The STAR.
The source said that while building new airports to complement NAIA at Manila and Clark International Airport in Pampanga would be a welcome development, it would take a long time to do so.
"We need a new airport, but that will take 10 to 15 years to become fully operational." In the meantime, NAIA desperately needs an upgrade of everything-facilities, processes, equipment, procedures and people, "said the source.
"The worst idea is to give up on improving NAIA now and only hope that whatever is planned will become a reality," added the source.
In the meantime, the consortium of seven conglomerates has recently received from the government the much-requested original proponent status (OPS) for its plan to rehabilitate NAIA.
The award of OPS to the NAIA Consortium, which is comprised of some of the largest conglomerates in the country, namely Aboitiz Infra Capital Inc., AC Infrastructure Holdings Corp., Alliance Global Group Inc., Emerging Dragon Corp., Asia, Filinvest Development Corp. ., JG Summit Holdings Inc. and Metro Pacific Investments Corp. would give the right to match offers from other parties when a Swiss challenge for the project is conducted.
The group said earlier that it is ready to begin construction immediately after obtaining the notification to continue and to realize the first phase of the expansion of NAIA's capacity by 2020. With Rudy Santos, Alexis Romero, Paolo Romero, Mayen Jaymalin, Delon Porcalla, Evelyn Macairan
Source link