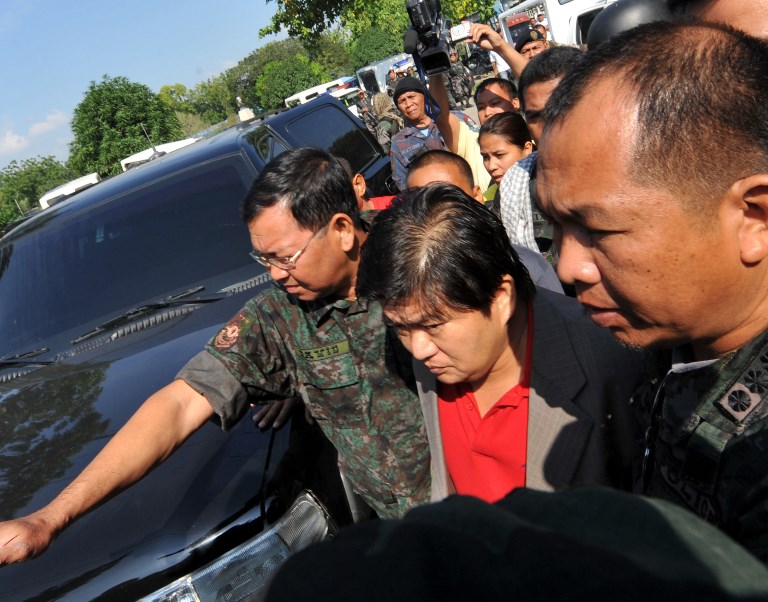 (UPDATE) Zaldy Ampatuan is one of the alleged masterminds of the Maguindanao massacre in 2009

MANILA, PHILIPPINES (UPDATED) – Maguindanao massacre suspect and former autonomous region in Muslim Mindanao (ARMM) Governor Zaldy Ampatuan was allowed to leave the prison to attend his daughter's wedding on Tuesday, August 21st.
Bureau of Jail Management and Penology (BJMP) Spokesman Xavier Solda told Rappler in a text message that Ampatuan was able to do so by obtaining a court order that he would leave prison on Tuesday between 4 and 7 pm.
According to the BJMP, the event was held at the Sofitel Philippine Plaza Manila in Pasay City.
"Nakabalik naman siya ng maayos sa kanyang selda before 7 pm kanina sa (He returned correctly to his cell before 7pm in the Quezon City Jail Annex at Camp Bagong Diwa in Taguig City, "Solda said in an SMS.
The BJMP said it has no information about which court Ampatuan has allowed to celebrate the outside prison or who his daughter is.
Remember Zaldy: Ampatuan is one of the alleged masterminds of the Maguindanao massacre in 2009, killing 58 people, most of whom were journalists.
At the time of the massacre Ampatuan was the governor of the ARMM. He was expelled from office after being involved in the crime and now faces 58 murders.
Witnesses confirmed that Ampatuan was present at meetings to plan the massacre, which was intended to prevent the then deputy mayor Esmael Mangudadatu from filing candidature against the gubernatorial bid of Zaldy & s brother Andal Ampatuan Jr.
The massacre is now known as the deadliest single attack on journalists in history and the bloodiest election-related violence in the Philippines.
Zaldy & # 39; s pleas: Since 2015 Ampatuan asks the court for permission to place a bail so that he can walk around freely while his cases are being dealt with.
His request was refused for the first time in September 2015, when Judge Jocelyn Solis Reyes of the Regional District Court of Quezon City 221 ruled that witness statements indicate strong evidence of guilt.
Ampatuan tried his luck at the Court of Appeals (CA), but the 8th Division of the Court of Appeal held Reyes' earlier ruling, which disfigured the ex-governor's request on April 18, 2018.
Apart from the charges for murder, Ampatuan is faced with a possible forfeiture case after the CA also enforced a 2015 Ombudsman decision in 2017 where he was found guilty of dishonesty and serious misconduct in connection with his wealth. – Rappler.com
Source link