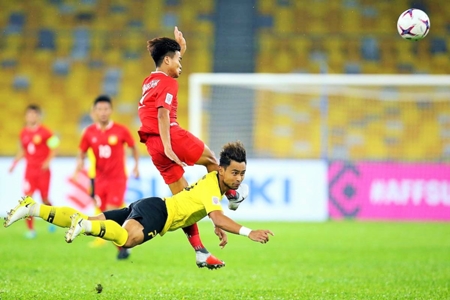 Malaysia put Myanmar in the sword in their must-win group A AFF championship clash on Saturday, scoring three goals, while not conceding.
---
BY ZULHILMI ZAINAL Follow on Twitter
---
Malaysia hit the pass in the AFF 2018 championship when it mattered most, and saw the challenges of Myanmar with a 3-0 win in their last Group A game on Saturday. The victory enabled them to continue to the semi-finals when the group came in second place.
Despite the fact that they have their ability to control possession in the previous game, against Vietnam, it Harimau Malaya Defense did not know the rapid transitions of the Golden Dragons and fell to a 2-0 defeat.
But in their must-win clash against the Asian lions, the hosts showed remarkable improvements in their defense to keep the attackers out of the danger zone.
Center back sure Aidil Zafuan Abdul Radzak agreed to this insight when he spoke in the press conference after the game.
"As a defender I think our defense has done a good job tonight, we have limited ourselves to mistakes and that helped us to win." We had to win the game, so we concentrated on scoring and refused to give in. the team had to work together to make this happen.
"At the attack we always started from the defense line, we moved well, and that cohesion was then transferred by the midfielders, which made it possible forwards to create opportunities. Tonight we made very few mistakes and we were patient in possession. When Myanmar made mistakes, Mohamadou Sumareh would use the holes ", the 31-year-old defender remarked.
If Group A is in the rankings, Malaysia will face Group B winners in the semi-finals. Their first semi-final meeting will be played on Bukit Jalil, next Saturday, December 1st. The final league round of group B will be played later today.
Stay up to date with the AFF championship 2018!
Follow as well Target Malaysia Instagram account!
Source link