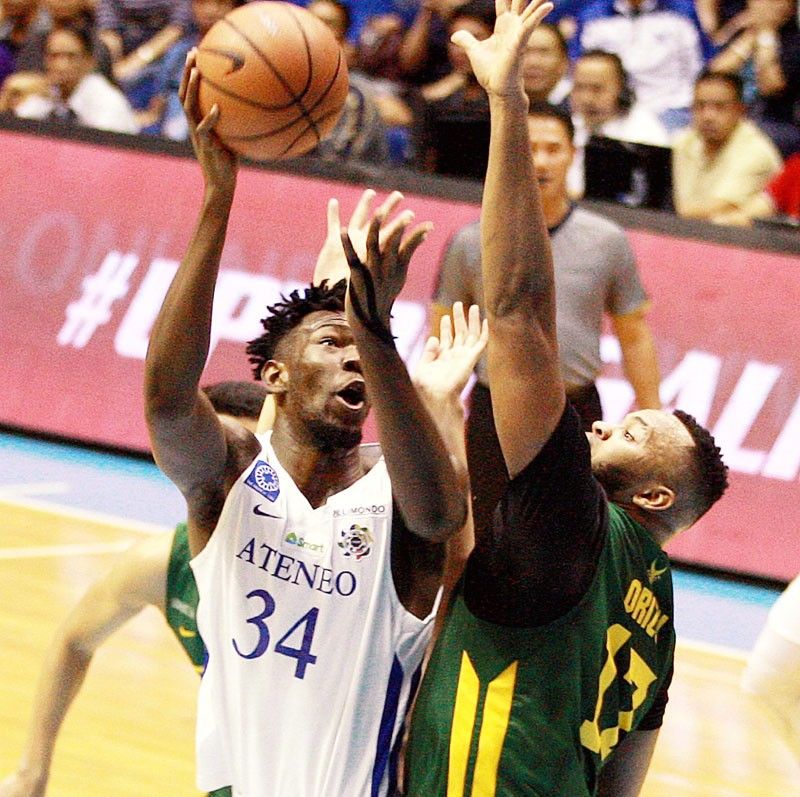 MANILA, PHILIPPINES – And then there were four … or three.
The University of the Philippines surprised Adamson, 73-71, to take Game One out of their Final Four series while the Ateneo Blue Eagles made a 13th UAAP final-trip with an 80-61 course of FEU.
Here are our thoughts on the two games in the past weekend (24 and 25 November):
Adamson is in a rut
The falcons lost five of their last eight games. Have they reached a peak? Do they have a second wind in the offing?
Whatever it is, they have to do their best in a do-or-die game this Wednesday against the streaking Fighting Maroons. UP received the crucial inside-bucket from Bright Akhuetie for an advantage of 42-40 in inside points. It is slim but it was the decisive factor.
We have pointed out the lack of consistency of Adamson, especially when it comes to their bank since the middle of the first round. Granted, Jerrick Ahanmisi struggled against UP, others still had to leave. You can only do Sean Manganti and Papi Sarr well. The shorter rotation means that you have to let the captains work harder. And they have to take a few photo's from the outside. They hit 1 of the 22 three-point attempts.
Head coach Franz Pumaren said that, just as badly as they played, they lost only two points. Maybe he finds their comeback for the fourth quarter well when they scored 28 points. I think they are looking for something positive right now. Not sure how much they can let that run, but it is still a loss. No one will remember their class or only by two losses. The fact is UP won.
UP is driving on a hot stripe
What a victory. There were shades of that Macky Escalona for Doug Kramer to help Ateneo win Game One of the UAAP Finals 2006 vs. UST. And now UP stands on the eve of its first final place since 1986.
What I liked about their victory was how they kept their heads above water when Adamson turned it into a game. And what a luxury it is to have a top scorer in Paul Desiderio, when Juan Gomez De Liaño came from the bank. You support that effort while Bright Akhuetie – even if he scored only six points, including the winner of the game – is stable.
I can not emphasize enough how important Akhuetie is. He is a proven player who goes back to his NCAA days. He is also a total team player and a smart player.
But for UP to win again, they will need their Big Three from Akhuetie, Desiderio and Juan Gomez De Liaño (as they did in the last piece) to perform well. Now, reel with confidence, who is betting against them?
Ateneo flashes that deadly summer form
The Blue Eagles found their groove and flashed that deadly shape that made them the consensus favorites to win everything.
Ateneo repeatedly attacked that basket with Thirdy Ravena who set the tone with back-to-back dunks.
The ball movement was great and the attack – at least for the first 33 minutes – was devastating. And for the most part Ateneo did not step off the accelerator (well, until the bank did not perform well until late in the game).
FEU was held at an average of 12 points for the first three quarters. They did well only in the fourth when Ateneo emptied his bank.
Ateneo played an excellent defense. The Tams hardly had daylight. The spark of hope came early after Ken Tuffin and Arvin Tolentino beat triples from every corner of the corner to beat Ateneo's lead, 10-6. But that was it.
When Angelo Kouame was chased to block RJ Ramirez from FEU, which was a few paces ahead, I thought of two things. What a rim protector and two, this is how La Sallians felt when Ben Mbala pursued Mike Nieto and blocked him in season 80.
Again, at the defensive end, only four FEU players did well with the shooting. Barkley Eboña (3/4), LJ Gonzales (3/3), Alec Stockton (2/3) and Arvin Tolentino (2/4). But even that is misleading. Tolentino was eliminated and damp problems. Moreover, he does not make a game four times. He takes a lot more than that, so four field goal attempts are not what FEU had in mind. Stockton was thrown away for a disqualifying error. As far as Eboña is concerned, later more about him.
It was Ateneo on his ruthless best. And now they are back in the final.
That was an overwhelming loss for FEU
They had a team that could have won everything. Unfortunately for them they ran into bad luck during the season. Tolentino was suspended for three games. Prince Orizu was injured. And that put a damper on their second round campaign. And now they are losing all these veterans they have worn in Tolentino, Orizu for the past two or three years (unless he decides to play another year, I think he will have another year left), RJ Ramirez, Jasper Parker, Richard Escoto and Axel Iñigo. That is a lot.
But what a painful moment of déjà vu for them. There were a few players on the squadron of FEU (that lost from Ateneo in the final) present in the Big Dome for the match – RR Garcia, Terrence Romeo, Achie Iñigo, Roger Pogoy and Gryann Mendoza. Now that team beat Ateneo in their two elims-games, but they came to the final, they were destroyed. In Game One they were blown away, 72-49, with Emman Monfort putting the clips on Garcia, the MVP competition, and in Game Two Ryan Buenafe dropped them with a killer three, 65-62.
And now the memory of their sparkling first round … is just a memory.
Back to Eboña.
I was surprised that he only played 16 minutes. He gave Ateneo early in the game. Why did not he play with Orizu, who was usually not effective (well, he just got back from an injury and is not 100 percent)? Why was Orizu sent to the bank when Kouame went to the bank? I thought he should have stayed in the game because he was badly needed to reduce that shortage.
It is a painful loss. And now they enter the off-season in a rebuilding mode. But there is no shame for this team. They have made their community proud.
Source link