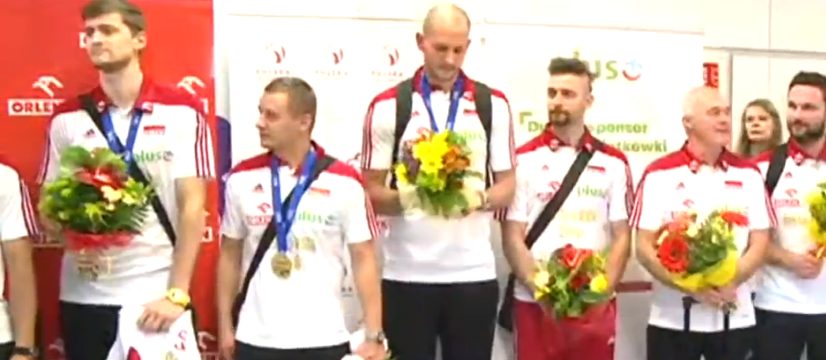 Mass fans welcomed our volleyball world champions today at Okecie airport, they came from Italy. There was singing, applause and thanks from both sides.
READ MORE: BRAWO !!! We are world champions! Poland-Brazil 3: 0! White and red defended the title of four years ago. PHOTO & S AND VIDEO
Initially the Poles would arrive 13. Because of the failure of the aircraft they had to wait a long time for the airport in Milan.
READ MORE: Polish gold medal winners are stuck at the airport in Milan. The arrival in Warsaw will be very delayed. Check out why
Eventually a plane from Poland was sent to them.
READ MORE: An airplane was sent to Warsaw from Polish volleyball players. It is known how late they will appear in Okęcie
The supporters were eventually welcomed by our volleyball players. World champions appeared at the terminal number 2. Crowds visited the hall, and foreign guests asked who the people were waiting for.
The Brass Band of the Volunteer Fire Brigade played a Polish anthem that was missing in Italy, and which volleyball fans sang along with the fans. "Poland, white and red", and "Song of Little Knight" carried around at the airport. The girls had volleyball balls and counted on signatures. Fans settled on their work to welcome our masters.
On the Okecie the names of Polish volleyball players were sung. Long expectations have been rewarded to fans. The heroes smiled and were happy.
I do not speak Polish, but in one word I will describe what has happened
– Coach Vital Heynen said in English.
unlikely
– he added in Polish.
We expected there to be fans, but we did not expect that there would be so many of you. For this occasion our playmaker Grzegorz Łomacz prepared a special haircut. I hope that in two years time, when we return from Tokyo, we will also enjoy each other. You are wonderful, you are our support
– said Captain Michał Kubiak.
Thank you for your support and our apologies for being late
– said the quarterback Fabian Drzyzga.
We felt your support thousands of miles away. I am glad we are already in Poland
– Bartosz Kwolek did not hide his emotions.
My apologies for my vote, but they gave us cold champagne. I am glad we are finally back and we will be able to enjoy our families successfully. Maybe it will finally reach us
– said the best libero of the Paweł Zatorski championship.
The best ovation went to the best volleyball player Bartosz Kurek.
Today we were a few hours late, I was four years late. But I am with them. It is a great team of warriors. We can do a lot together and with such big fans
– said the MVP championship.
After the official part, the fans could shout their idols and trainers, make photo & # 39; s and collect signatures.
From Okecie the heroes went to the Mariott Courtyard Hotel for a press conference.
READ ALSO: The father-commentator and quarterback raced in the arms after the final. – This is one of the most peaceful races in my career – Drzyzga jr.
MACRO
Source link