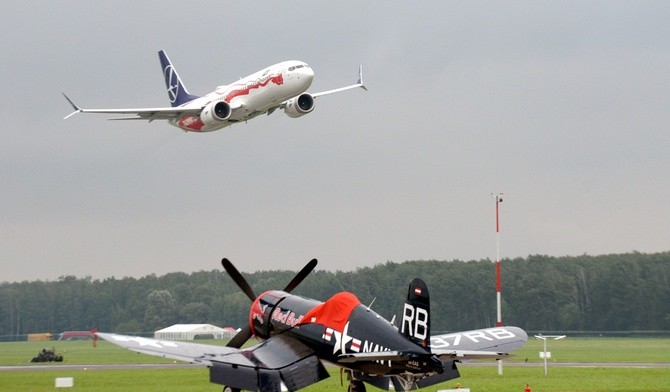 During the two-day demonstrations at the airport in Radom, no criminal events were recorded.
The International Air Show in 2018 in Radom, despite the bad weather and the interruptions in the shows, looked around 160,000. viewers. According to the organizers and services responsible for safety, there were no major problems.
No exceptional events took place during such a large event. A large sum of money was found in one of the buses that went to the airport. 54-year-old from Kozienice reported police officers more than 4,000. zł. And at the same time, a young woman from Grójec reported to the Radom police station about the loss of that money. Cash was meant for the organization of baptisms.
The problem was getting lost for a few children who eventually found parents and caretakers. And this only happened during the first day of the shows. The police information point at the airport showed its effectiveness here.
He intervened after being bitten by insects or feeling sick. No criminal incidents have been registered. On the second day of the demonstrations, the spectators in the police tent wanted to protect themselves from the rain.
560 police officers watched over the safety of the event, which cooperated with military police, border guards, fire brigades, municipal guards, rescue services and SOP. Operative policemen also looked at security, inconspicuously mixed with the crowd of viewers. The service was also carried out by officers from the Independent Counter-terrorist unit of the Radom police and other cities, as well as from the Office for Counterterrorism Operations at the police headquarters. To ensure the highest security standards, officials from the National Treasury Agency worked at the airport access points. They supported the work of police officers and used devices with which luggage and vehicles could be detected with a view to revealing hazardous devices. As with previous shows, the Police Anti-Conflict Team operated at the airport and in the neighborhood. His job was to check places where conflict situations could have been prevented, and in the case of their action, help with solving them. In addition, the owners of the ATM cards, wallets and mobile phones found are still being determined.
National roads leading to Radom were patrolled by a helicopter from the police headquarters "Sokół". Buses, with which viewers from various places in the city were transported, traveled a total of 66 thousand. km. Almost 300 people from the companies MPK Radom, Michalczewski, DLA and Irex-4 worked on this episode. The police were escorted by 100 city guards and 40 employees from the municipal road and transport administration in traffic management. Radomska Ambulance Station and medical services have helped 366 people. Approximately 200 employees of the municipal services department took care of the parking spaces. The company Radkom from the airport itself has collected dozens of tons of waste.
«
<

1

>
»
rate the article

Source link