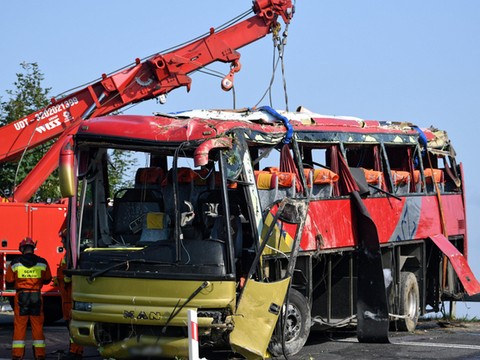 The carriage went from Lviv to Vienna. 54 people were traveling between the ages of 8 and 55. Among them there were three crew members – two drivers and one guided tour. They left on a Friday, August 17, before 5:00 pm The accident took place after 10:00 in Leszczawa Dolna in Podkarpacie. The vehicle fell out of the way on the so-called death arches.
– This is a dangerous turn. There is a maximum speed of 30 km / h. There are such streamers that there is no way to go fast – said Fakt24.pl staff sergeant Marta Fac, press officer of the command in Przemyśl. The 42-year-old bus driver succeeded.
– From the preliminary findings, the cause of the accident was excessive speed. It was about 70-80 km / hour – Beata Starzecka-Skrzypiec, prosecutor in Przemyśl, informed during the Saturday conference
A bus that led Mykola £. The energy-consuming barrier broke, a verge cross struck and rolled off the slope. – The manager took actions to prevent this – the public prosecutor added
In the case of death three people died and 37 were still in hospitals. Among them there are 10 children. 9 people are in serious condition. – We drove normally, we crossed the border. The driver turned the light on the bus and people began to fall asleep – one of the passengers told TVN24. – A lot of noise and the bus rolled off the hill. The bus turned and covered my daughter. People saved their lives, we shouted: "Save our children" – she added
– We drove along the slope and he (driver – editor) did not pay attention. Eventually there was a turn and he went straight ahead. We drove off the slope. Time will not go back and we will not change anything, but he did not look at the signs, he could go at a slower rate – the other woman reported.
The researchers reported that passengers suffered from fractures. The heaviest injured person has a broken back. The victims are in hospitals in Przemyśl, Jarosław, Sanok, Lesko, Ustrzyki Dolne and Brzozów. The dead are a man and two women whose identity has already been established. It is known that the bus driver was sober. Mykola £ Will be heard and will probably hear the accusation of bringing calamity into traffic on land. Threatened for 10 years in prison
The prosecutor also intends to request a temporary arrest of a man for three months at the court. People who have already left hospitals stay in one of the hotels in Przemyśl. As reported by PAP, they have both psychological help and a meal. The Consul General of Ukraine is on the spot. Foreigners were given a substitute coach to return to
Tragedy in Podkarpacie. This is where the accident happened, there was a cross …
Tragedy in Podkarpacie. The carriage fell into the abyss. There are victims and injured
Source link