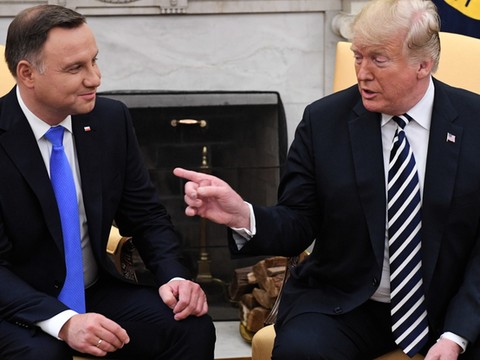 The criticism of many photographers records the moment when the President of the Republic of Poland and the President of the United States sit at the Bureau during the signing of the White House Declaration
The photo was published on Twitter by Donald Trump. Politicians, journalists and even experts commented on it
However, Andrzej Duda emphasizes in the interview for the weekly magazine that the most important thing for him is not the photo mentioned, or the criticism that concerns him, and the achievement of his goals during a visit to the White House.
In the interview Andrzej Duda mentions that the conversation with Trump was "strong, honest, concrete (…) and then the explanation that stumbled". – Everyone takes a copy and we keep working. What was important to us was the strength of this document, confirmation of the strategic alliance in the new circumstances. The world after 10 years is different – he emphasized. – Donald Trump – if he can – avoids unnecessary celebrity, he wants to close things off positively. Me too. And so we built it, that's how it should be – says the president.
According to Andrzej Duda, the conversation between him and the President of the United States was "so good that it was stretched considerably". – I have achieved the goal. If someone prefers to focus on the fact that I was not on the golden throne, it is difficult – continues the president. – I promised the Poles an effective presidency, not a celebratory act. I keep my word.
In the interview, the president emphasized that: "We did not want it to be an empty document, signed by the President of the Republic and the President of the United States, so that it would have the power of a personal stamp, a personal decision Donald Trump, a dynamic businessman in the past, is very important. "He also pointed out that the statement of 2008" was not signed by presidents or even by ministers, it was simply accepted. " And as he says for this reason, "immediately afterwards it turned out that we would not have rocket shielding in Poland." – I did not want to make a mistake like that. And I have not committed – he added.
Read also – Someone sent Andrzej Duda a converted photo from the White House. President: I fell!
(Ks)
Source link