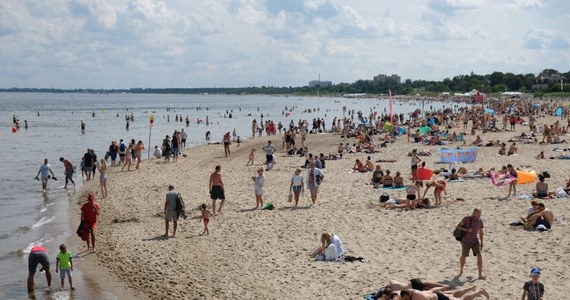 More than 50 people have created a "chain of life" in Sopot. People remained under their arms and marched in the waters of the Gulf of Gdansk to find and save a six-year-old boy.
The beach in Sopot, photo illustrative
/LUKASZ SOLSKI /East News
The rescuers received a report about a six-year-old Hubertus, who may have been lost while bathing, on Sunday, August 19, about 13.00.
On Radio Gdańsk, Maciej Dziubich, president of the Water Volunteer Rescue Service in Sopot, spoke about the conditions of the action.
– The relief workers have made the so-called chain of life, asking for help from the beach. About 50 people were in the chain in Sopot. This has greatly improved the search. After an hour of searching, the bottom of the boy was not found. We have decided that he has lost the coast – he explained.
The case was handed over to the police. The boy was found two hours later. Nothing happened.
The CEO of WOPR in Sopot also explained on Radio Gdańsk what function he fulfills. life chain.
– "The chain of life" is created when we look for someone in the water. Instead of leaving a few or even ten or more rescuers in the water, we can ask people from the beach for help. Usually they are grown-up men who come into the water with their arms, under their arms, and go from one search area to another and search from one to the other and go backwards. It is more likely that a person under water will find 50 people than three or six people, although the last saviors are – he explained.
The savior also warned to always take care of the children on the beach and to prevent situations in which we lose sight of them.
– You must always be with your child. When he plays on the sand, we are standing next to him, when he plays on the beach and goes into the water with a bucket, we go with him. If we go deeper, the parent is always from the sea, because if the child falls over, if the wave wants to catch it, it will fall into our hands. Unfortunately, when the child appears in the water, parents only get up from the blanket and start running between the screens – he said.
Source link