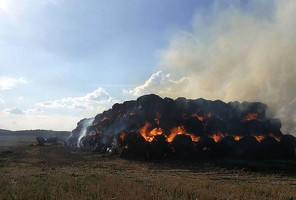 Tens of thousands are estimated for losses caused by the fire from a pile of straw in Sobótka near Wrocław (Dolnośląskie province). The fire was moved by three boys, playing with fire.
---
---
Three 11-year-olds played with a lighter behind a stack of straw. One of them burned his fingers and dropped a bunch of smoldering grass. As a result, an unintentional arson has occurred. The boys tried to extinguish the fire, but the situation outgrew them quickly. Luckily, they showed civil courage and informed the fire department.
Before the fire department arrived, the neighbor noticed that he was shooting in the field. Men could do little, but they made sure that the fire did not go to nearby crops or buildings. A 40-meter long pile of zbelowanej, the straw of this year burned completely. The owner estimated the losses at 43 thousand. zł.
Policemen arrived during the explanation of the circumstances of the fire and noticed three young boys. A bit later it turned out that it was the three 11-year-olds who set fire to the straw during the game. The children were taken care of by their parents and the materials in the case were transferred to the family court.
Source link