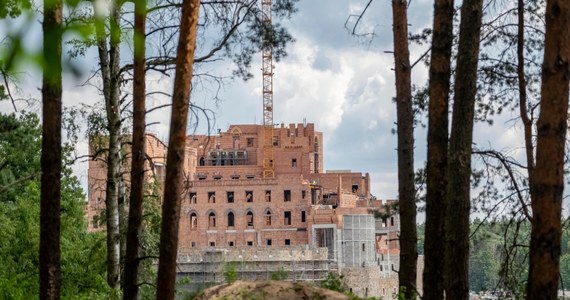 The Regional Directorate for Environmental Protection in Poznań will again conduct the inspection and resume the procedure that precedes the approval of the construction in case the castle is being built in Stobnica, near Oborniki Wielkopolskie, on the edge of the Notecka primeval forest. In the opinion of inspectors, the construction area is larger than the investor stated earlier – informs RMF FM.
Construction of the castle in the Noteć forest
/Robert Wozniak /FORUM Agency
Inspectors will analyze documents submitted by the investor to the Regional Environmental Protection Board four years ago.
"The regional director did not know the fact that the surface will be transformed. If a decision on the environmental conditions is required, it is also required before the building permit" – said Dawid Lisek of RDOŚ in Poznań.
An environmental decision is required when the investment area is larger than two hectares. If it turns out that the investor has deliberately not given the right dimensions, the case will return to the early retirement in Oborniki, which gave permission for the construction. However, the local construction supervision of the shortcomings can not be seen.
"The building object falls within the limits for which the permit is issued, the construction site is a matter of concern" – and was provided by Iwona Piszczek of the Building Inspection Inspectorate in Oborniki, which can exist within the investment until 30 days after completion.
In the meantime, construction work on nearby Stobnica and the area is closely guarded. The case went to the regional prosecutor's office in Poznań. The research begins next week.
(Nm)
Mateusz Chłystun
Source link