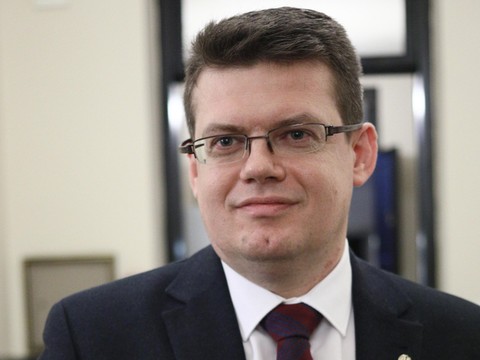 Two members of the Association of Polish Judges "Iustitia" Igor Tuleya and Bartłomiej Przymusiński were summoned to submit statements from the disciplinary spokesman for ordinary courts. It involves submitting explanations about their participation in information program & # 39; s.
– The procedure is in case, it is difficult to talk about disciplinary punishments at this stage, we will see how the procedure will go. However, we are dealing with a procedure that provides for a 14-day deadline for the jury members to explain. And a few judges gave the request for an explanation – says Bartłomiej Przymusiński in an interview with Onet, confirming that among them is also the judge Igor Tuleya.
The spokesperson "Iustitia" admits that he is wondering how he should respond to the generally formulated letter from the National Court Register. It gets the date of the speech, without indicating which specific parts of the speech are intended.
Przymusiński presents in the media a critical approach to changes in the administration of justice by the government and considers them to be inconsistent with the Constitution. Igor Tuleya speaks in the same tone.
OKO.press has determined that in the case of Bartłomiej Przymusiński it is probably a speech on TVN24, in which the judge called the judge the "beauty contest" by selecting candidates for the Supreme Court. Przymusinski has also ruled that the national judicial body works as the Minister of Justice wants.
Igor Tuley is in turn expected to explain his participation in "Facts after the Facts" on TVN24 in July, in which he announced "a fight under the law" – thereby making clear that he does not recognize the new national court register.
– This challenge is very puzzling. It is difficult to tell me what is going on. But it is about the statement about the body of KRS – explained on TVN24 president of "Iustitia" Krystian Markiewicz.
– So far we have never had such conversations. (…) We will see in which direction this procedure will go – emphasized Markiewicz. – When it comes to public speeches, the situation is unambiguous for us – the lawyer said.
– "Iustitia" has approved a course that complies with the Constitution and comments on what happens to the rule of law in Poland. (…) We do not intend to change our behavior. We will continue to talk aloud about topics related to Poland and the rule of law – said Markiewicz.
The president of & # 39; Justice & # 39; pointed out that ongoing processes mean that Minister Ziobro will have instruments to influence lawyers & # 39 ;.
Also see: Igor Tuleya: The National Council for the Judiciary has so much to do with the judiciary that it destroys them
(KF)
Source: OKO.press, TVN24, Onet
Source link