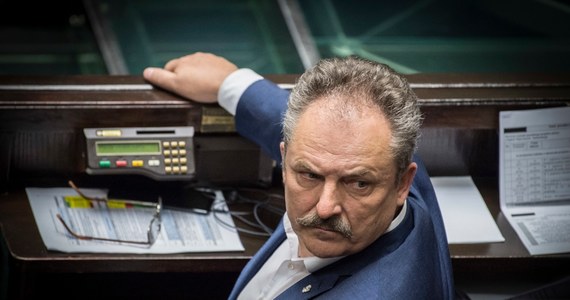 – I will not bid on new investments in Warsaw – said Kukiz & # 39; 15 candidate for the office of head President Marek Jakubiak in an interview with PAP. He added that the campaign among other businessmen matters.
Marek Jakubiak
/Jacek Dominski / /news reporter
On Thursday, Paweł Kukiz presented Marek Jakubiak as candidate for the Kukiz & # 39; 15 movement for the office of the President of Warsaw. "I start thanks to the trust of my friends to win and to restore Warsaw in place, both in Europe and in our hearts" – said the candidate.
In an interview with PAP, Jakubiak assured him that he already had an overview of his election staff. There will be a few dozen people and their list will soon be published on the internet.
As he said, his group wants to oppose the campaign "which is based on promises." He added: "First you have to count the money, and then you have to know how you can spend it."
Candidate Kukiz & # 39; 15 said that one of the topics of his campaign is transport. "I see it much more seriously than other candidates (…) We will talk about the possibilities and why there is no bridge in Bartycka Street and why it has been made differently.We will talk about what we should build in Warsaw, but realistic seen, not that we will build bridges "- he said. He added that "he will not bid on investment in Warsaw".
When asked about the idea of ​​forbidding a car to come to the center, Jakubiak replied: "Warsaw is also for drivers and for cars." "We can not do a museum in Warsaw under the guise of smog, this smog exists and to be honest, even when it closes car traffic in cities, the smog is still there … I ask where the cause is? in changing the rose wind, you have to think about it "- he said.
Jakubiak stated that motorists can not be the biggest enemy of the city, because they also pay taxes that go to the city later.
In turn, when asked whether the capital should build new parking garages, he replied that "we in Warsaw have to find a place for collective parking of cars, the shopping centers themselves will not give advice". He stated that the solution could be underground multi-storey car parks.
As an entrepreneur Jakubiak also announced cooperation with the Chamber of Entrepreneurs in Warsaw, which brings buyers and restaurant owners together. "I want to hear what they are in. We will talk, we will draw conclusions, we have two months of meetings and we will talk until a plan for Warsaw is made" – he said.
Jakubiak also referred to the candidacy of Jan Śpiewak (Wygra Warszawa), whose support was taken into consideration by the Kukiz movement15. "A man who wants to manage six thousand officials – I ask if he has already arranged something, or maybe he made a few grandmothers in the sandbox?" – asked Jakubiak.
When asked how he would join the office of the President of Warsaw with the work in the parliamentary VAT fraud committee, he replied: "There is a problem, but we have two great assistants and a great advisor, so I think the the whole burden of preparing these things will fall on them, he has inspired and guided these works. "
So far, besides Jakubiak, the wish to apply for the presidency of Warsaw was announced by: Deputy Minister of Justice Patryk Jaki (right), PO deputy Rafał Trzaskowski (mayor), leader of the free city of Warsaw Jan Śpiewak (Wygra Warsaw), spokesman for PSL Jakub Stefaniak, former Warsaw vice president Jacek Wojciechowicz, SLD candidate Andrzej Rozenek, Justyna Glusman (City Movement Coalition centered around the city of the Ours association), Sławomir Antonik (Niewartyyjnia) mayor of Targówek and leader of the social security movement Piotr Ikonowicz.
According to the decree of Prime Minister Mateusz Morawiecki, local elections will take place on 21 October; second round of direct elections of commune heads, mayors, city administrators – 4 November.
Source link