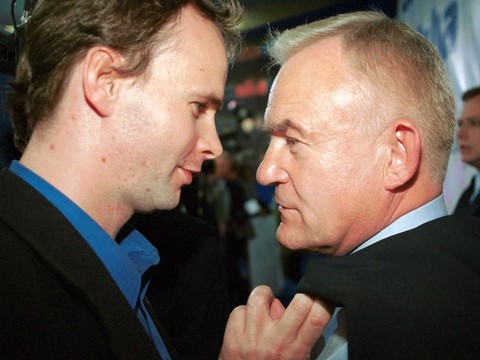 Leszek Miller Junior did not belong to the SLD, but he was associated with the leftist community – mainly the business community. He led many interests, he started his adventure with business in the late 1990s.
He graduated from Warsaw's economic faculty, where he worked with, among others, the famous rallyer and businessman Sobiesław Zasada. He then ran various investments and interests, he also worked in state-owned companies, including KGHM.
The death of Leszek Miller Junior was confirmed by one of the former SLD politicians.
Her granddaughter Leszek Miller, Monika, informed her about the death of her father. She turned to her fans and asked for an understanding of her absence on social media. "I'm sorry for all of you … I can not run my instagram now, I promise I will come back if I can handle all this … You can finally rest in peace now daddy …" – wrote Monika Miller (original spelling).
The daughter of the late Leszek Junior is a novice internet star. He publishes his photo 's on Instagram, he gives himself in the tabloid press.
On Monday in the late afternoon, the declaration on the tragedy in the Miller family was issued by the Warsaw prosecutor.
– Initial findings indicate that Leszek M. committed suicide – the Public Prosecutor Łukasz Łapczyński from the District Parquet in Warsaw informed PAP.
– The body was found on Sunday morning in one of the rooms of the house he lived in. The site was inspected with the assistance of police technicians and the public prosecutor. Preliminary findings in the course of the inspection activities indicate suicide-informed Łapczyński.
When he applied the body of Leszek M., it was taken to the Forensic Medicine department, where the autopsy will be performed. Material for toxicological tests will also be collected. Leszek Miller Junior was 48 years old.
Where can you find help in crisis situations?
If you need immediate assistance, you can submit an application to the Crisis Intervention Centers (OIC) in each major city. You can get psychological, legal and material help there. Part of the OIK is open for 24 hours and runs night shelters, for example. HELP is free! You do not need insurance.
If you have persistent and strong suicidal thoughts, you can also visit a psychiatric hospital. No health insurance is required. In case of emergency (if you say this is an urgent matter), the doctor should take you the same day.
Free emergency phone line for adults: 116 123 (open every day, from 14:00 to 22:00). Free emergency phone line for young people: 116 111 (open every day, from 14:00 to 22:00). A list of aid organizations can be found at www.samobojstwo.pl
Video: Leszek Miller about the new PiS project
Source link