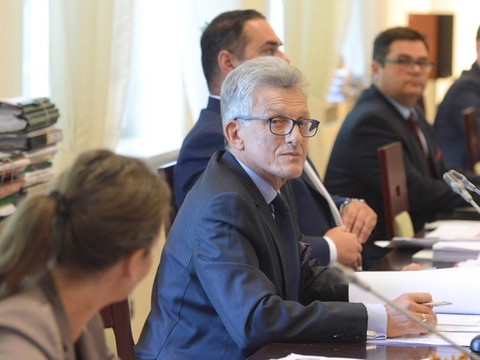 On 23 August, the national courts elected the judges to sit in the disciplinary chamber of the Supreme Court set up as part of the judicial changes. Of the 63 people who have submitted their candidacy, the Council has decided to recommend the President 12, which in her view should be in the new chamber. This group included Ułaszonek-Kubacka.
According to "Rzeczpospolita", the Legal Disciplinary Court ruled in March 2017 that Ułaszonka-Kubacka passed its professional activities "unlawfully, unreliably, through due diligence and integrity". It is a situation in which the lawyer went to the debtor's house together with the debt collection company's representative late in the evening. Although she did not find him there, she decided to talk to his wife, who was not qualified to decide how to pay off the debt.
The disciplinary court imposed a fine of PLN 3,500 on Ułaszonek-Kubacka. The legal adviser did not appeal against the verdict, so it became definitive.
Members of the National Court Register knew about this situation. – The cases of lawyer Ułaszonek-Kubacka contain information about disciplinary proceedings – the spokesman for Rzeczpospolita said the judge Maciej Mitera. When asked why he was recommended by KRS Mitera, he replied that "the voting result had the upper hand". 15 members of the Council voted for her candidacy.
– A person who has to judge whether others adhere to the ethical rules and has problems with them must be excluded as a candidate for the SN Disciplinary Chamber – said Jarosław Sobutka, the main disciplinary spokesperson of the Polish Chamber of Legal Advisors in an interview with Rzeczpospolita.
More in the current "Rzeczpospolita".
Do you want to stay informed about the most important information of the day? Like onet News on Facebook!
Source: "Rzeczpospolita"
Source link