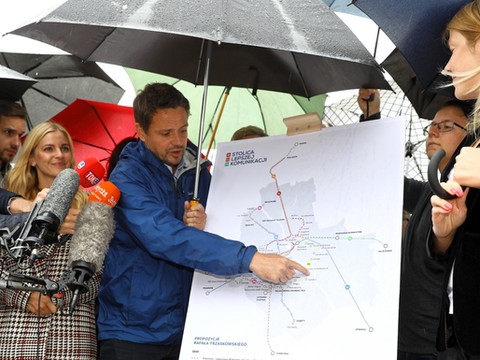 – For a few days we present the plan "capital of better communication", to begin with to say that if we want to solve the problems of Warsaw in a comprehensive way, we must implement and build the entire communication system – the PO and the modern civil coalition have emphasized. He added: "Of course this system already works, but we want to expand it." Passenger flows are important, transfer stations are important. "
As part of the presentation of this plan, Trzaskowski organized a briefing today in the Białołęka district in Warsaw – at the intersection of Światowida and Mehoffer streets.
As he stressed, he would like communication investments to complement each other. – That is why we are at such points of Warsaw that are sensitive, where new settlements are developing, where passenger flows are increasing, to talk about how we are able to solve these problems – he said.
"We would then have a metro in Białołęka"
– Regarding the place where we are, on ul. Mehoffer, we want to bring the metro from the Młociny station here, via Huta, the Northern Cemetery, Pułkowa, and the Vistula Street to ul. Mehoffer. We have accurate calculations of this investment, it is about PLN 1.5 billion – said Trzaskowski. As he adds, "we would have a subway in Białołęka."
As he adds, "that's not all." – First we want to finish the second metro line, start building the third metro line, while the fourth and fifth we start in a few years, we want to start planning this type of investment. Of course we also want to build new tram lines, some are already planned, even the construction has started, but the point is that all Białołęka must be well communicated – said the candidate. He mentioned in this connection, among others, tram line from ul. Kondratowicz to Zielona Białołęka and a tram line along ul. Modlin.
– Metro line, new tram lines, more buses and thanks to that we would create a system that would support the whole Białołęka, and all residents of Białołęka could count on the nearest stop 600 meters away from them and they could always quickly reach the center of the capital reach – emphasized Trzaskowski.
"Improving communication is a very important goal"
Council member PO from the district Białołęka Magdalena Roguska pointed out that improving communication has always been one of the main objectives of the work of local authorities in this district. As indicated by the tram line from Bródno to Zielona Białołęka, it should be a priority investment. "Residents rely heavily on it," she said and added that she was happy with Trzaskowski's announcement.
Trzaskowski presents as part of his campaign a few days the elements of the program "Capital of better communication", which is based on m.in. creation of new metro lines, SKM and tram lines. According to the candidate's announcement, the implementation of this program is intended to help Varsovians to go to work more quickly and go home.
Do you want to stay informed about the most important information of the day? Like onet News on Facebook!
(At)
Source link