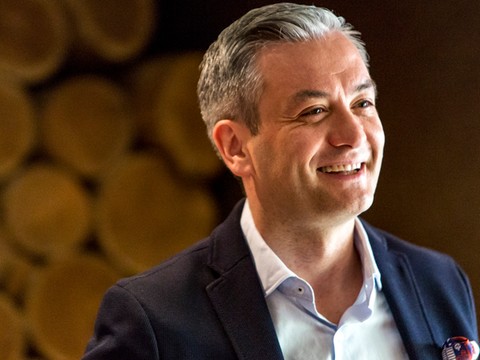 In mid-August Gazeta Wyborcza reported that Biedron would not flee for a second term in Slupsk, but would announce the launch of its nationwide political project called "I love Poland"
Biedroń himself on Twitter published an entry in which he declares to be attached to Słupsk
Now Biedron declares that he has made a decision and wants to inform about this in the coming days
"I want to share with you a number of important information in the next few days, to watch my Facebook at 14:30 tomorrow, I invite you to watch the press conference in Warsaw on Tuesday at 13:30" Facebook "- wrote Biedroń with his entry .
Video material has been added to the item. "I grew up in a modest, large family on Kolejowa Street in Krosno, a street you see every day in your cities, I saw how many people were left at the start of the transformation … It does not have to be that way. I do not have anyone to vote for, I want Poland in which nobody is left behind, that's why I made a decision … "- the recording breaks off at this point.
Biedron starts a new party?
The Pomeranian politicians who asked for anonymity said that President Biedroń did not hide in private conversations for a few weeks that he would set up a new party.
After the information on plans for the future of Robert Biedron appeared, the current president Słupska published a message on Twitter. "Fama crescit eundo (The rumor continues to grow up – Latin.) I love Slupsk, like Poland," wrote the politician.
Previous plans
In April, Robert Biedron was a guest on the Onet Morning program. – Who will take the PiS out of power within two years? Biedroń. Symbolically, this is a matter of certain values ​​- he said in the program. President Slupska said that the duopoly must be ended, "this fatal hold of Kaczyński and Tusk". – We are constantly being wiped out by this conflict between the Civic Platform and Law and Justice – he added.
In May, "Wprost" reported that Robert Biedron would say in the "circle of his trusted employees" that Donald Tusk would leave the next presidential election. According to the portal, President Słupska announced that he would fight for the President of the Republic of Poland only in the next elections in 2025. – I have time, I am still young – several people heard about Biedron. In an interview with Onet, President Słupska denied these reports.
– This is false information, fake news. There have never been such conversations before – says Robert Biedroń. He also referred to other reports on plans to create a new political group, including Barbara Nowacka, as well as former members of Nowoczesna: Ryszard Petru, Joanna Schmidt and Joanna Scheuring-Wielgus. More in the text by Marta Glanc.
Who is Robert Biedron?
Robert Biedroń was born in 1976 in Rymanów in Podkarpacie. He is the initiator and long time president of the Campaign against homophobia.
For years he worked as a consultant for more than a dozen human rights organizations in Poland and abroad. In the years 2004-2005 he was a member of the advisory board of the government prisoners for equal status of women and men, Izabela Jarudze-Nowacka.
Political activity of Robert Biedroń
In 2005 Robert Biedroń took part in the SLD lists to the Sejm, but he did not receive the mandate of the deputy. In the same year he resigned from the party. In 2011 he was re-elected on the SLD election list for the Sejm, but he decided to start the election of the Palikot movement. He became the first member to openly admit his homosexual nature.
President Słupska
In 2014, Biedroń announced that he would participate in the presidential election of Słupsk, although he had no ties with this city. Finally, in the second round of the elections, he gained 57 percent of the votes.
As president of Słupsk, he became famous for his savings policy. He swapped his business car for a bicycle and instead of bottles of water, civil servants began to drink tap water. Loud about saving by President Słupska was made because of the Christmas tree for Christmas, because Robert Biedron, instead of spending money on the Christmas tree, decided to use the ones in front of the town hall.
Since 2016, Biedroń has also been a member of the advisory group on gender equality, forced travel and protection at the High Commissioner for Refugees.
Source link