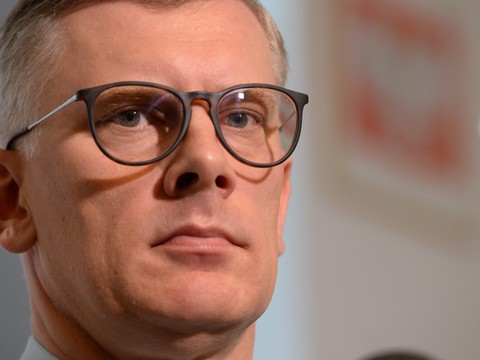 This should include Jaroslaw Michonia, who – as we read – had to make a decision outside Ewa Gawor to dissolve the March of the Warsaw Uprising.
"My interlocutors from Warsaw City Hall and people involved in the organization of the Warsaw Uprising on 1 August this year reported that when taking the decision to end the march immediately (No. MV / 5310 / ZG / 1 / 2018) – in addition to the director of the Office for Security and Crisis Management Ewa Gawor (who drafted a written statement of reasons for the decision on 3 August) – Jarosław Michoń, a senior specialist at BBiZK, was involved ", says the website of the weekly .
As noted in the article, Jarosław Michoń (born on April 23, 1963) is "legal" in the office "only as a former policeman". "However, this is not a complete truth about Michael's past, although he became a policeman after 1990, but he began his career at ZOMO under martial law (as part of his basic military service). MO, on July 8, 1982, was admitted on the headquarters of the ZOMO Metropolitan Police on 5 October 1982 and on 24 October 1982 he took the oath of the MO officer. "- writes Sławomir Cenckiewicz on the page" Do Rzeczy ".
Michon, on 28 July 1984, had to request the possibility to work in the SB. "The decision to take him to the security service – and in the anti-ecclesiastical Department IV of the Office of Internal Affairs in Warsaw – took over the head of the secret police colonel Tadeusz Szczygieł in Warsaw (in the years 1985-1989 head of the IV Department of the Interior.) Michoń worked – as he wrote – "after the problem" food economy ", ie speaking with the jargon of the secret police in the" pig interview "(section IV of the SB treated religious associations and agriculture), "we read.
Andrzej Szymaniak
Another person who, according to the author of the article, has a history in the SB, is Andrzej Szymaniak (born on January 26, 1962) – the head of the Emergency Operators Department at the Office of Security and Crisis Management of the city of Warsaw.
Before joining the SB, Szymaniak served in the capital ZOMO as part of his basic military service (adopted on January 12, 1983, he took the oath of MO on March 20, 1983.) In December 1983 Szymaniak approached the chiefs with a request for possibility to study at the F. Dzerzhinsky College of Officers in Legionowo (in his application he called it "The College of officers of the security service in Legionowo"), "we read.
Do you want to stay informed about the most important information of the day? Like onet News on Facebook!
(At)
Source link