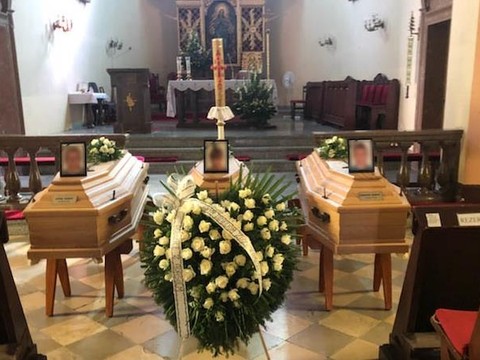 For the funeral of three brothers and sisters from Sulmierzyce, drowned two weeks ago in Darłówek, the whole city came. The houses were hung with black cuffs. During the service the priest assured that the parishioners are sincere with the parents of deceased children. – Do not forget that we will not leave you alone – a priest said during the mass that the children learned the religion at school.
– Today we do not say goodbye to you, but we see you in the joyful appeal in heaven – said the priest, saying farewell to the children. Expressions of compassion for parents did not just flow from friends. The letter was sent with condolences, even Pope Francis sent them. After the Mass the funeral procession reached the parish church in Sulmierzyce, where the deceased brothers and sisters were buried. Anna and Damian K. stood in silent despair over the crates of their children.
How were the brothers and sisters of Sulmierzyce lost?
The tragedy in Darłówko took place on August 14th. The unfortunate day of the marriage with Sulmierzyce was by the sea with four children – the 14-year-old Kacper, the 13-year-old Kamil and the 11-year-old Zuzia and the 2-year-old Adasa. It was windy on the Baltic Sea, the waves were very high and there was a total ban on swimming. Nevertheless, three older children entered the water. Their mother – Mrs Anna went to the toilet with the youngest son. When she returned, she realized that the older three were nowhere to be found.
A dozen minutes later, the body of the 14-year-old Kacper was pulled out. The teenager died in the hospital in Koszalin. The body of his sister Zuzia was found three days later at the entrance of the harbor, and four days after the Baltic Sea incident on the east side of Darłówka, the body of the other boy, Kamil, was fished out.
Also see:
The death of three brothers and sisters in the Baltic Sea. Funeral in Sulmierzyce
Dramatic account of the witness of the tragedy in Darłówko. "I blame the rescuers"
Source link