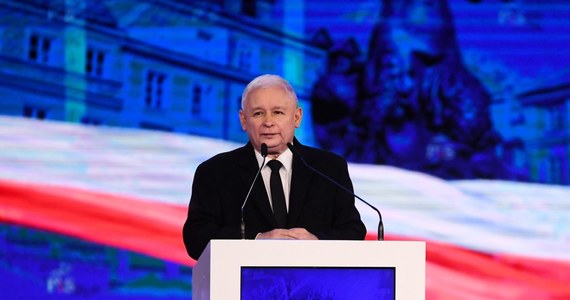 – A few months ago we had several unsolved problems; and today Israel speaks about history in our language, the EU about refugees has adopted our solutions and stable finance and economic growth is an absolute European leader – said Prime Minister Mateusz Morawiecki at the PiS convention. He added that PiS is a European party whose goal is to make Poland live on the level of the European Union.
Speech by the President of Law and Justice Jarosław Kaczyński during the PiS election convention
/Bartłomiej Zborowski /DAD
– Only together, in agreement, can we change the Commonwealth – Morawiecki said. It did not come anywhere. It all came from faith in the possibility of a fundamental change in our homeland. We do not divide Poland and Poland. We want to combine and we want to glue together. Poland is one – said the prime minister.
He announced that small companies will pay 9 percent from 1 January. tax, "because we want Polish companies." – We have completed talks with the EU and I can already say that large companies that have not yet paid taxes in Poland will pay 19%. – Morawiecki added.
The prime minister also presented the program of the local government. His first point is thermodynamization. – What is a pain, are high heat loads. That is why we start with a thermo-modernization program for houses – the prime minister said.
– The second thing is lower bills with waste. That is why we are introducing the program: "segregate – you pay less". We will make special preferred programs – he explained.
– In the coming years we will invest PLN 500 million in new playgrounds for children, open activity zones, open-air gyms – Morawiecki explained. he also announced that the PiS wants to significantly increase spending on old people's homes at least twice.
One of the PiS proposals for municipal elections is also the "Modern commune" program, including the largest renovation program for stations in decades and a two-fold increase in the funds for municipalities that want to rebuild bus connections.
PiS also wants to allocate 300 million PLN to support municipalities in public budgets.
He said that PiS is a European party whose goal is to make Poland live on the level of the European Union.
President Kaczyński has spoken before.
– We have 21 specific months ahead of which we will hold four election campaigns – said Kaczyński. – It will also be the months of the assessment of power and opposition – he added.
The head of the Law and Justice party recalled that he warned against attacks on "a good change". – It is easiest to endure the nobles of this world. If it wants to work for society, it is incomparably more difficult for the nation – said Kaczyński.
– But here we have an attack from the outside, but also from the inside, which creates something like an alternative reality. This attack is to humiliate us, not just a good change, but also Poland, "he said.
He emphasized that Poland wants to be in the EU, "because Europe is the European Union, for Poland this presence in the EU is the shortest way to achieve equality in terms of living standards."
– And Poland also understand that we – as a nation, as a state – have to carry different weights that our Western partners did not wear when they were in the same place where we are today. These weights are often not logical, they are often logical. But we wear them. But that does not mean we have to repeat the mistakes of the West and that we get infected with these social diseases that prevail there – he added.
He added that the law and the judiciary did not go to these elections "to argue and settle". – We will only do it if there have been major abuses, crimes, such as in Warsaw – the president said.
He also reminded that he warned that the road chosen by his group would be a & # 39; away up & # 39; would be and that the & # 39; PiS & # 39; stones would still fly. "" And so it is, "Kaczyński said.
He stressed, however, that law and justice keep his word. "We are speaking, that is to say, that we are not missing what the essence of democracy is, because democracy can not rely on deception and manipulation" – pointed out the PiS headline. "If someone announces something and then does not realize it, the democratic act, the most important – the election, changes into an empty procedure" – said the head of the PiS.
"We carry out our announcements, at least, we are on the way to their implementation, so I say again: we have not failed in democracy, we realize what the essence of democracy is" – he emphasized.
Jarosław Kaczyński ended his speech with the words: "we will win". – We are going to Poland much better. In 15-20 years we will be able to say that Poland is just like the western border. In every sight. The Polish right wing can do this – said Kaczyński.
Jarosław Kaczyński, Zbigniew Ziobro and Jarosław Gowin signed an agreement on Sunday on cooperation within the United Right in Warsaw. "The unity of Polish law is of great value to Poland (…) and therefore we will sign a new agreement here in this House – an extension of this, three years ago" – said Kaczyński before signing the document. "We are going together" – he explained.
The convention began with the singing of the national anthem.
Immediately after the end of the congress – as the head of the election staff, Tomasz Poręba told PAP – the special campaign "PiS bus" with the head of government on board will go to Łowicz. The prime minister's visit begins a tour of Poland, where PiS politicians will promote their local elections program.
According to Poręba's announcement, the convention, which takes place in the Hala Expo of the capital, is to outline the strategic directions of the party's long-term activities.
The head of PiS club Ryszard Terlecki told reporters before the convention began that it would be "the symbolic start of an intense election campaign". "Today we want to launch it officially, start a very intense work, present our program, our election slogan, in short: mobilize our activists, supporters, supporters for intensive work, because a lot depends on these choices" – stressed the politician.
According to the spokesperson for PiS, Beata Mazurek, you can expect a good, positive opening during the Sunday conference, as well as good speeches: President Kaczyński and Prime Minister Morawiecki.
"We have experience in making conventions, often these conventions were made in the American style, they got a good reputation, not only from our members, but also from our opponents" – emphasized Mazurek. "I think there will be surprises that the state will be happy with," she added.
The convention is to open the speech of Jarosław Kaczyński, followed by Mateusz Morawiecki and the party leaders in United Right: the head of the agreement, Deputy Prime Minister Jarosław Gowin and the leader of Solidarna Polska, Minister Zbigniew Ziobro of Justice.
Moreover – as evidenced by the PAP information – some candidates from the United Nations for presidents of cities, including candidate for the capital Patryk Jaki, presidential candidate of Gdansk Kacper Płażyński and the presidential candidate of Wroclaw, Mirosław Stachowiak-Różecka.
Source link