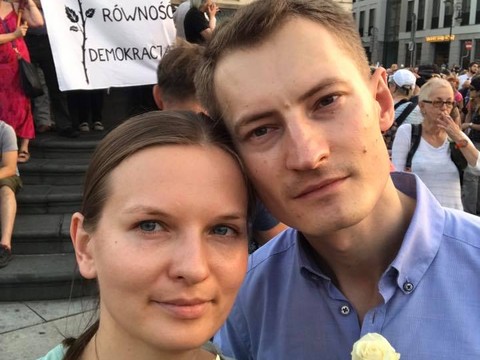 – The negative opinion of the Internal Security Agency regarding Kozłowska is related to serious doubts about the financing of the Open Dialog Foundation, which may have further legal consequences – added Żaryn.
Ludmiła Kozłowska – Ukrainian president of the Open Dialog Foundation and wife of the citizen activist Bartosz Kramek – was arrested late at night in the evening on Monday 13 August at the airport in Brussels, where she flew to one of the offices of the foundation she ran. The woman learned that she was included in the Schengen Information System (SIS) by Poland, with which people cross the border crossing the Schengen area. Kozłowska was marked with the highest warning resulting in immediate deportation from the Schengen area. The next day she was sent to Kiev by the Belgians on the first plane – Onet Marcin Marcin was informed on Friday.
Kozłowska and her husband Bartosz Kramek are convinced that joining the SIS is a form of repression by the Polish authorities for the activities of Kramek in favor of civil rights and free courts. – We are dealing with retaliation for my public activities – says Kramek.
Who has submitted the application for joining Kozłowska in the SIS?
Since the deportation, lawyers Kozłowska and Kram have unsuccessfully tried, at the request of any of the competent authorities, to write the Bureau for foreigners Kozłowska to the SIS, which led to its removal from the territory of the European Union.
In 2017, the foundation was critically expressed by senior representatives of the aforementioned ministries. In August, the then head of the Ministry of Defense Antoni Macierewicz, referring to the foundation on TV Trwam, stated that the foundations should be controlled by special services. At the end of 2017, the court rejected the Ministry's request for a compulsory administration in the foundation. Also in August 2017, the deputy head of the Ministry of Internal Affairs and Administration Jarosław Zieliński told TVP Info that the foundation "should be treated by the internal security service".
This is the last institution of which Kramek suspected that she had initiated the woman's access to the SIS. – If we receive signals that the reason for entering Ludmiła into the system posed a threat to the security of the state, I would be the fastest on the ABW – said Kramek. The ABW spokesperson previously ignored the e-mail with Onet's questions about the Kozłowska case.
(AW)
Source link