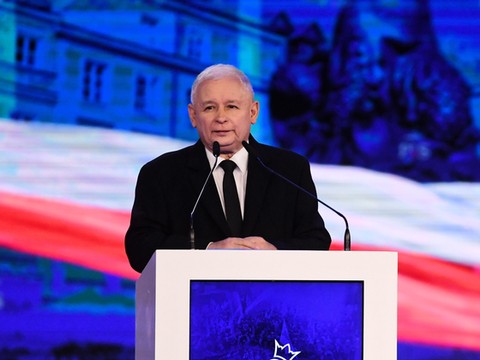 We are going to win together, we are going to a better Poland and to a joint effort to ensure that Poland in 15-20 years is just like the west of our borders – Said Kaczyński
Morawiecki announced five areas in which the government will support local authorities: a warm house, a good neighborhood, a modern municipality, faster and more internet, and live decisions
PiS president and head of Solidarna Polska Zbigniew Ziobro and leader of the agreement Jarosław Gowin signed an election agreement between three parties
Kaczyński: these are the months in which power and opposition are judged
Before the speech of Jaroslaw Kaczyński, the attendees at the convention sang the PiS president "a hundred years" and greeted him with shouts of "Jarosław". The PiS leader emphasized that there would be no Sunday convention if it were not for President Lech Kaczyński.
The head of the PiS noted that the convention is a promise of 21 months in which four election campaigns will take place. As he added, these will be months of policy evaluation, both in power and in the opposition. The PiS chairman judged that the next elections will be complicated, because in 15 local governments there is currently a parliamentary opposition.
– For a long time there has been a campaign against good change, a campaign that goes far beyond what is normal in democracy, this is a simple discussion between those in power and those who strive for power – he said.
– Here we have an attack from inside and outside, an attack that creates something like an alternative reality, something that is not entirely relevant to facts, something that is supposed to humiliate, not just a good change, but only Poland – he judged .
Kaczyński said that it is easiest to pursue the interests of the strongest, and when it "wants to work for society", it is more difficult. – I have told you from the beginning that our road will be uphill and that there will be stones for us and that is what it is – stressed the PiS president.
– We are speaking, that is, we are not missing what the essence of democracy is, because democracy can not depend on deception and manipulation. If someone announces something and does not realize it later, the democratic act, this most important election, changes into an empty procedure – he added.
The PiS chairman also noted that the party is on the way to realizing its announcements, and therefore implements what & # 39; the essence of democracy & # 39; is.
– We go uphill, not down, not even flat, but up, to better Poland, to better fate of Poland, better means more prosperous, that is, and it is very important, more appropriate, more equal – he emphasized.
– That is why we must continue to climb, climb, we must believe that the Poles know the facts and know how it is – he noted.
Kaczyński emphasized that Poles have high expectations and are an ambitious nation. In the context of the forthcoming elections to the European Parliament, he emphasized that Poland wants to be located in Europe and the EU. because to get equality in terms of living standards with Western Europe.
– Poland also understands that as a nation we have to bear the different weights that our Western partners did not wear when they were in the same place – he estimated.
– We wear them, but it does not mean we have to repeat the mistakes of the West and that we get infected with these social diseases that prevail there – he added.
The head of the PiS: we do not go into this election to debate and arrange
Kaczyński said that PiS appreciates a lot of local government performance. – We are not going to fight and arrange this election. We will only argue and settle where we are dealing with drastic events, which have caused great damage to people, to crimes and even to crimes involving major ill-treatment, such as in Warsaw – said the PiS president.
He also stressed the importance of cooperation between local authorities and local authorities with the government.
– Do we want such self-government that will fight with the government, which we can say, growl against the government, as we have heard recently, even during very important state ceremonies, or do we want to work together on the common good, the quality of life? to improve Poland? – asked Kaczyński.
The PiS president emphasized that the Polish law of history has learned and knows that the electoral success comes when there is unity, action for the common good, when disputes are rejected.
– Honesty is extremely important, we must remember it, remember it and be humble if we make mistakes because mistakes happen "- he said.
"If they are, you must be able to apologize, repair, go back and show that we can and hope that society sees it and that it will appreciate everything – he said.
He repeated once again the role of the unit of the United right in the upcoming elections.
– The great value for our work for Poland at these next elections, in the next and parliamentary, as well as European and presidential, is unity, unity of Polish law, unity in acting for the Republic – said the PiS president.
Agreement of the United Right
After these words Kaczyński announced the signing of an agreement between Law and Justice, the Agreement and Solidarna Polska, which – as he argued – is an extension of the agreement three years ago.
– We are going to win together, we are going to Poland better, much better than today. We are going to allow a joint effort of society and authority at all levels to lead to a situation in which in 15-20 years, probably not possible, we will be able to say – in Poland it is just to the west of our borders, in every respect – Kaczyński said.
– This will be a great success in the size of 1050 years of our homeland history, because it has never been so – he added. The PiS chairman expressed his conviction that United Right is capable of doing so. – We must, I repeat, be together, work, be honest, be humble, if necessary, and wish it all to you and myself. We will win – he stressed.
Prime Minister: we are a good host
– We show effectiveness in solving problems; we are transferring new funds to major solidarity programs & # 39; s – said Mateusz Morawiecki during the PiS convention. As he argued, it is possible because United Right is "a good landowner".
The head of the government, which addresses the politicians of United Right gathered at the convention congress in Warsaw Hala Hala Expo, noted that a few months ago the ruling camp suffered from "several unsolved problems" including a dispute with Israel, the problem of EU policy on refugees, or concerns about the budget deficit associated with social programs introduced by the PiS.
– But we show effectiveness, we show that we can solve them. (…) Today, after these few months, I can say: Israel speaks about history in our language, the EU has adopted our solutions (with regard to refugees – ed.). We won this and stable finances and economic growth – an absolute European leader – noted Morawiecki.
As he argued, when introducing social programs, the government "goes all the time". – And problems relating to people with disabilities and other problems – we solve. We are moving more and more money to our major solidarity program – the head of the government emphasized. – We can do that, because we are a good host of this country – the Prime Minister emphasized.
The Prime Minister emphasized that the inhabitants of certain cities in the country love Poland just as much and need as much investment and a dignified life.
– It did not come from anything, it came from the belief in the possibility of change in our homeland, fundamental change, change in value, re-evaluation of everything – said Morawiecki.
– It is because we do not divide Poland and Poland. We want to combine, we want to glue together and we do that against what is sometimes attributed to us. Poland is one – said the head of the government.
Morawiecki on the repolonization of the Polish economy
– We have shown that, by winning with VAT mafiosi, with tax evaders, we can simultaneously obtain these funds for social policy and development policy – said the prime minister at the PiS convention, which heralds the self-government campaign of United Right.
"The heart grows when you look at what we have been able to do in these three years," he remarked. – First, someone four years ago, would think that I would like to emphasize at the same time, at the same time we will have such a big social policy, big spending on defense policy – 10 billion higher than in the PO and PSL in 2015 – the prime minister.
He added that Poland has the lowest unemployment at the same time. – The minimum wage is increased the highest. Hourly rates, low inflation and at the same time polarizing the Polish economy again. This is what the law and justice does – says Mateusz Morawiecki.
Prime Minister on the slogans of the opposition
In his speech during the PiS election convention, the prime minister referred to the slogan "Constitution", which is called by opponents of Law and Justice. – We are very unambiguous, I want to emphasize this, we stick to the constitution. We look at the constitution as a whole, but we also follow the letter – he explained.
– In art. 10 (Constitution) there is a clear balance between the authorities – the legislature, the executive and the judiciary. But what is the judiciary that chooses itself, judges itself and possibly disciplines itself? This is not a balance in strength. This is the most unbalanced arrangement for the judiciary in favor of the power of lawyers. And we do not want your lawyers, just the rule of law – to emphasize Morawiecki.
– I meet residents; without dialogue, without cooperation, without a sincere approach to the residents, people who want to help after the victory, nothing will work – said Płażyński during the local government PiS in Warsaw.
In his opinion, it is the residents who know local problems and know what they want to do in their city. – So far, in Gdansk, the authorities closed in crystal palaces, did not go to people and it has to be changed in Gdańsk. It is necessary to restore confidence that politics, especially at the level of local government, can be very close, does not separate from each other – said Płażyński.
He indicated that during the talks he hears a postulate to do something that at the level of the local government "would not be politically dirty, to restore confidence that politicians are more than constantly startled, continual dissatisfaction, new disputes that politics is a nice public service and care for social welfare. & # 39;
– The autumn elections are coming, in which we will not only decide in Gdansk, but also in other cities, provinces, municipalities, how power will talk to people, or will it be a real change – said the candidate for president of Gdańsk.
– We glue Poland, we connect Poland. Bridges, roads, railways, infrastructure is what connects Poland. While in the case of taxes, courts or education, one can argue about it, here in this dimension there was no doubt. Everyone wanted to do it, everyone wanted to introduce such a fund to our compatriots. Here was another question about where you could get the money – Prime Minister Mateusz Morawiecki said during the Sunday convention of law and justice.
Morawiecki recalled that from September the PiS government will allocate PLN 5 billion for the construction of municipal and provincial roads. He added that it is possible, among others thanks to the money that comes from sealing the VAT.
The head of government also remembered the programs of the Government of Law and Justice, including Good Start and Availability Plus program. He also stressed that small companies pay lower taxes from January.
– We want more Polish property, more Polish capital, and until now everything was upside down. Large companies paid 0, or 2 or 5 percent. tax and a small 19 percent. We change it. Small companies pay 9% from January 1 so they can grow because they are small, we want Polish companies – said the head of the government.
He added that the government ended with "tedious negotiations with the European Union", so large companies that did not pay taxes paid a tax of 19 percent.
Prime Minister: in the last 30 years there has not been as much freedom in Poland as now
For the past 30 years there has not been as much freedom in Poland as now; currently they have more Polish families: freedom from humiliating poverty, from heartless governments, from the evil regime of our predecessors, "said Mateusz Morawiecki.
Morawiecki stressed that he had been in more than 100 places during the Polish tour in recent months, he listened to Poland and spoke to them. – I have often accompanied several friends of our "other supporters", such as "freedom", "constitution", to my friends and colleagues, where did they find it? They were. So I want to tell them a lot (…) that in the last 30 years, because I do not count the remaining 50, there was not as much freedom in Poland as now, the Prime Minister said at the PiS convention in Warsaw.
According to him, "Polish families now have the most freedom", freedom from humiliating poverty, freedom from soulless rule, freedom from the evil rule of our predecessors ".
As an example of this freedom he gave the issue of retirement age and sent six-year-olds to school. He argued that it now depends on the citizens whether they retire at the age of 60 and 65 years or later. He added that they have the same freedom when it comes to the time that their children go to school. He asked whether those who had raised the retirement age offered more freedom than they did. "Less", he said.
– But they are a team, PO and PSL, who took their freedom, for example PSL. After all, they were liberal or free market parties, but they forbade farmers to sell agricultural products at the place of production. The PSL imposed fines on such farmers. This is a scandal, my country, how they shared Poland, how they sold it, "said the prime minister, who claimed that in the years of PiS predecessors," the sale of our family silverware for about PLN 6 billion "has continued . " We must not forget that they shared – said Morawiecki.
Source: PAP, IAR
Source link