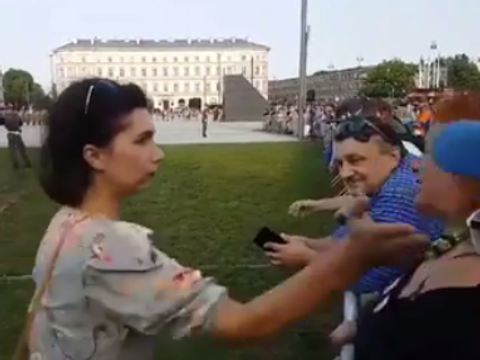 During Yesterday's Veterans Day Party at Piłsudski Square in Warsaw, a group of PiS opponents gathered the slogan "constitution". At one point a woman approached the barrier and slapped one of the protesters and said, "Shut up, you stupid babo. The group immediately turned to the current military police on the spot with a request to intervene, but at that time the woman measuring the cheek was already far away.
The incident was responded by deputy Joanna Scheuring-Wielgus, and demanded that minister Joachim Brudziński identify an aggressive woman. Brudzinski commented that "the answer to verbal aggression can not be physical aggression". He assured her that the woman had been deported by the police.
"I absolutely condemn the striking of the disturbing (re) state parties of the aggressive lady The person who meets the representative #ObywateliRP has been evaded by @PolskaPolicja. The answer to verbal aggression can not be physical aggression, "wrote the head of the Ministry of the Interior and Administration.
It turned out that it was Dominika Arendt-Wittchen, who was the proxy for the celebration of the centenary of the independence of the governor Paweł Hreniak (Law and Justice) – said Dziennik Gazeta Prawna. According to Onet, the spokesperson for the voivode Sylwia Jurgiel, Arendt-Wittchen, did not perform any other function in the office of the wojeworld and is no longer affiliated with this institution at the moment of dismissal.
Arendt-Wittchen was appointed Plenipotentiary of the Plenipotentiary for the Celebration of the Hundredth Anniversary of regaining the independence of Poland in March 2017.
(source: Twitter, "Dziennik Gazeta Prawna")
Source link