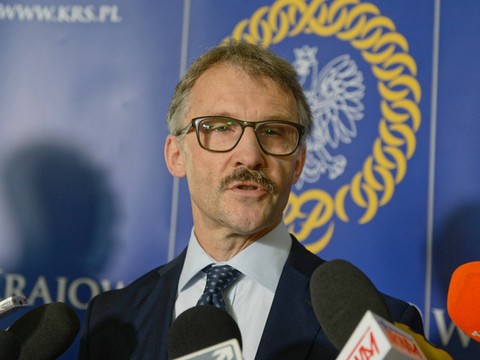 – On Thursday and Friday, positions in the disciplinary and criminal chambers will be fulfilled – said the president of the national court register.
– It was appropriate to do it at the beginning of September, but the work of the teams gave reason to recognize that these candidates were well developed. Meetings with the candidates are just the highlight of the work – explained the chairman of the National Court Register Leszek Mazur at a press conference. – We operate out of order before holidays – he added.
Leszek Mazur explained that the current situation, when the disciplinary chamber, which operates from April onwards, is not being filled, does not consider complaints and many processes can not be completed.
Mazur on Judge Muszyński: this reduces his freedom of choice
When he was asked about Mariusz Muszyński, a judge of the Tribunal, who is a candidate for the SN Disciplinary Chamber, and did not appear at the hearing of the National Court Register, he replied: If his withdrawal has not arrived and has not formally arrived, this candidacy will be taken into consideration. – But in a situation where the candidate did not appear at the team meeting, I think his chances of being presented are smaller than those of other candidates. It certainly reduces its freedom of choice – emphasizes Leszek Mazur.
Selection of judges at the Supreme Court
Four teams from the national judiciary council held hearings with candidates before the judges of the Supreme Court from Monday to Wednesday.
At the end of June in the Polish Monitor, the president's announcement of vacant positions in the Supreme Court was published – there are a total of 44 vacant vacancies. As the KRS spokesman Andrzej Mitera has previously informed, "the individual applications will be handled by the KRS teams and recommendations will be made to the entire Council, and the entire national register will make decisions during the plenary session". The final list of candidates goes to President Andrzej Duda.
– These meetings, which we hold for three days with the candidates, is just the highlight of the work, which is to learn the documents and achievements of candidates previously sent to the Council – Judge Mazur commented on the work of the KRS teams.
Source link