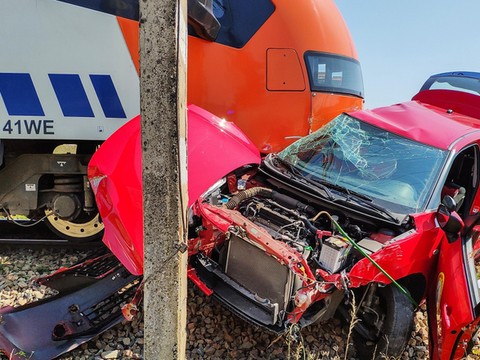 On Monday (August 27) in the District Parquet in Nowy Targ, a 62-year-old examiner, Edward R., was interviewed. According to the testimony, the 18-year-old Angelika P., despite the "stop" sign and the so-called cross of St. Andrzej, she did not stop the car for an unguarded railway crossing. The examiner also did not, but admitted that after crossing the tracks he wanted to stop the vehicle and ended the exam with a negative result.
The car stopped at the intersection for unexplained reasons and it could not be restarted. Suspect at the last moment before the collision with the train, escaped from the car. The defendant testified that he would give the order to escape from the car. However, the information reached by Gazeta Wyborcza is in contradiction with this version.
According to the public prosecutor Józef Palenik from Nowy Targ, the camera's recordings in the vehicle do not confirm the version of events that Edward R. presented in his testimony – Podejrzany claims that after repeated and failed attempts to park the car By sacking him and the student an order has been given to escape from the car. Researchers found no confirmation of these words in the analyzed recordings – the public prosecutor explained in Gazeta Wyborcza.
The man was accused of accidentally causing a disaster in a land movement in which an 18-year-old student was killed. According to researchers, the examiner of the Małopolska traffic center in Nowy Targ is responsible for the tragic accident at the level crossing. The man is faced with a fine of 6 months to 8 years in prison.
Let us remind you that the tragedy took place on an unguarded railway crossing in Szaflary, Lesser Poland. During the driving test on Thursday (23 August), the 18-year-old drove an unguarded passage from which she could not leave. The examiner had to get out of the car and wave to the driver to keep the warehouse. The opponent of Nowy Targ – Zakopane hit the vehicle. A trainee with serious injuries was taken to a hospital where she died.
The 18-year-old rode under the train during the driving test. He is dead
The train rammed the car with a student. Shocking shot
Author: IB
Source link