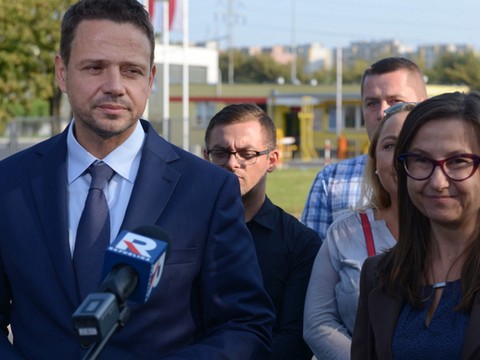 During the press conference on Thursday, Trzaskowski recalled that he was leading the campaign "18 districts – a Warsaw" in the election campaign, in which he presents his program proposals for specific parts of the capital.
– We spent two days here in Białołęka. We met residents in the street, some were so nice and invited us home. I have just met great elders – the candidate said.
The Trzaskowski program for Białołęka included three postulates: the development of public transport – including new tram lines, metro and extra buses, the establishment of new schools and kindergartens, the construction of parks and entertainment venues.
As the PO Member said, there is a lot to do in Białołęka regarding communication. – Here, just at Tarchomin, we have one new tram line, but we want to build three new ones: along Modlińska street, a new route to Zielona Białołęka and a route to eastern Białołęka along the North Bridge route. These are three new tram lines, we start from this line to Zielona Białołęka – said Trzaskowski.
The candidate for the president of the capital also plans to build a new metro line – from the last station on Młociny through the areas in the northern cemetery, near the Vistula, to Tarchomin, to the Mehoffera street where the last station will be.
Trzaskowski also proposed the establishment of new schools and kindergartens. – It is extremely important because the district is developing extremely dynamically and this infrastructure is lacking here. There will be new schools in Tarchomin, including a new high school – he announced.
Trzaskowski also plans to construct more parks and recreational areas, taking advantage of the natural advantages of the district.
Do you want to stay informed about the most important information of the day? Like onet News on Facebook!
(PC)
Source link