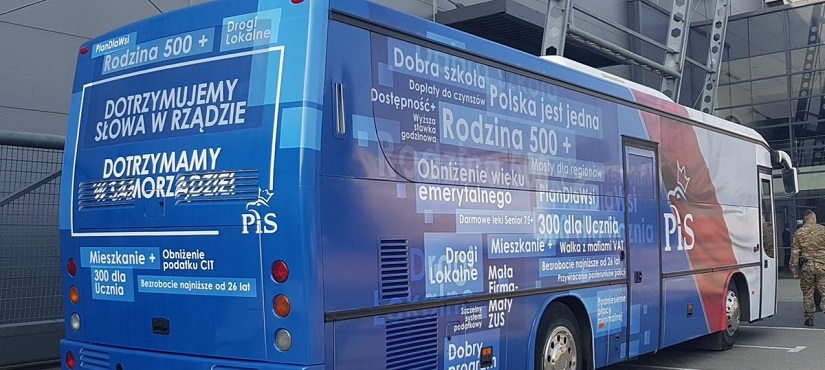 PiS has prepared a special campaign "PiS-busy", which starts on Sunday in Poland to promote its local government elections program. "PiS bus" will travel politicians of Law and Justice, including Prime Minister Mateusz Morawiecki.
Tomasz Sobolewski, the head of the executive committee of the party, on Sunday informed about the action on Twitter.
We go to Poland with a clear message # We keep the word in the government # Storyholders in the local government
– he wrote.
The Chief of Staff of the PiS, Tomasz Poręba, added in an interview with PAP that shortly after the Sunday convention of the local "PiS bus", the Law and Justice with the head of government on board, he will go to Łowicz.
"PiS-busy "are blue, they also have the white and red colors of the Polish flag on them, there is also a logo of Law and Justice (a characteristic eagle in the crown), as well as numerous program slogans of the party, including" Family 500+ "," Availability + "," Flat + "," 300 for the student "," Reduction of retirement age "," Local roads "," Higher hourly rate "," Small business, small ZUS "," We keep our word in we will keep the government in self-government. "
The Sunday PiS convention starts at 12:00 in Warsaw. According to Poręba's announcement, the Congress will indicate the strategic direction of the long-term activities of the ruling party. The speech of the PiS president Jaroslaw Kaczyński, Prime Minister Morawiecki, which includes proposals for local authorities, is planned. The election slogan will also be revealed.
READ ALSO: ONLY WITH US. The big PiS convention in Warsaw in a week! The main speaker – Jarosław Kaczyński
READ ALSO: Information from wPolityce.pl has been confirmed. Poręba: President Kaczyński will hold a strategic speech during the convention and make a PiS story
About "PiS busie", which started on Sunday in Poland, also wrote on his website "Rzeczpospolita" on Sunday. The "PiS buses" are also written by wp.pl and the website "Rzeczpospolita".
ak / PAP
Source link