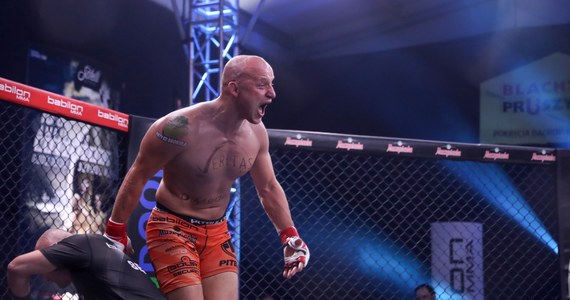 Friday Babylon MMA 18: Revenge gala caused a lot of excitement! In the fight of the evening, Paweł Pawlak defeated Adrian Błeszyński to win the middleweight belt. The pride of the gala was also the performance of Łukasz Sudolski, who knocked out Mladen Kujundzic in 12 seconds.
Babylon MMA 18. What a knockout! 13 seconds and after the fight! (Polsat Sport). video
Polsat Sport
Pawlak and Błeszyński faced the battle for the Babilon MMA organization's middleweight belt in February. An incredibly thrilling five-round game ended in a draw, so the band remained vacant. Both players said they did not want to wait for the jury's verdict this time and that they would try to determine the fate of the title in advance.
It didn't work out, but the fans have nothing to regret! Both players provided a great spectacle that kept you in suspense until the last seconds. Ultimately, the belt went to Pawlak by an unequivocal decision of the judges.
Extremely spectacular was the last fight before the belt fight, which lasted only 12 seconds! That was exactly what Łukasz Sudolski needed to take out Mladen Kujundzic.
There were emotions in the other duels too. In the first fight of the main card, Oskar Szczepaniak – who made his professional debut in MMA – defeated Adam Rybczyński by the judges' decision. The fight was interesting, but the next fight sparked even more emotions. Paweł Dziuba settled Maciej Smokowski in two minutes and 38 seconds and won by technical knockout.
Fight number three was also over before time. Adam Łaguna won by submitting to Kamil Mękal, performing an effective choke behind his back in the second round. Dawid Martynik used the same technique in the next fight, so Patryk Trytek had to tap in the second round.
The judges' verdict turned out to be crucial again in the fifth clash, in which Paata Tsxapelia had to recognize Marcin Jabłoński as superior.
83.9 kg: Paweł Pawlak (17-4-1, 9 KO, 3 SUB) defeated Adrian Błeszyński (9-4-1, 7 KO, 1 SUB) unanimously for points (49-45, 49-46, 49- 45)
98 kg: Łukasz Sudolski (8-0, 5 KO, 1 SUB) defeated Mladen Kujundzic (3-4-1, 2 KO, 1 SUB) via TKO, round 1
70.3 kg: Marcin Jabłoński (9-2, 3 SUB) defeated Paata Tsxapelia (9-6, 3 KO, 4 SUB) unanimously for points (30-27, 29-28, 29-28)
61.2 kg: Dawid Martynik (4-1, 1 KO, 2 SUB) def.Patryk Trytek (3-1, 2 KO) by submission (rear choke), round 2
83.9 kg: Adam Łaguna (4-1, 1 KO, 2 SUB) def.Kamil Mękal (0-1) by submission, round 2
120 kg: Paweł Dziuba (1-0, 1 KO) defeated Maciej Smokowski (0-1) via TKO, round 1
70.3 kg: Oskar Szczepaniak (1-0) defeated Adam Rybczyński (1-1, 1 SUB) unanimously for points (29-28, 29-28, 29-28)
Read more about Babilon MMA 18 on Polsatsport.pl – click!
23.40 With a unanimous decision of the jury, Paweł Pawlak won the Babylon MMA middleweight belt, which Adrian Błeszyński!
23.38 Who gets the belt? The jury will decide!
23.37 Runda V: This last round was incredible! When Pawlak started hitting a rival who was already rocking his feet, he suddenly gathered his strength and managed to overthrow him! The fierce fight lasted until the last seconds!
23.31 Round IV: Both players were already very tired. Yet neither of them gave up. Pawlak executed a good action and knocked Błeszyński down with a kick. However, this was also able to get the rival to the ground. Blood flowed from Błeszyński's shattered face. Until the last seconds, Pawlak threw blows, but he didn't knock the opponent down.
23.25 Round III: With every second the advantage of Błeszyński was visible, who – it seemed – had retained more power. Pawlak responded with a heavy blow with an elbow. After a while, Błeszyński toppled his opponent. In the last minute, the fight returned to stand-up. Pawlak hit a rival who miraculously survived!
23.18 Round II: It was a sharp exchange of blows! In the end, Pawlak brought his rival to ground level, but he was short of time to finish the fight.
23.12 Round I: At the start of the round, Błeszyński knocked down the opponent with a blow. However, the fight quickly returned to stand-up. Both players exchanged blows. Despite the lack of audience, both corners made an eerie noise.
23.00 At the end of the night fight, a middle weight belt fight in which Adrian Błeszyński and Paweł Pawlak will face.
Source link