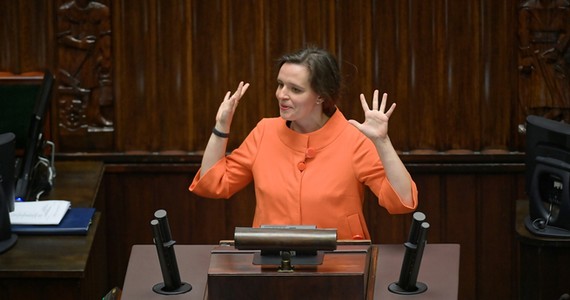 Klaudia Jachira's harsh words
In discussing the resolution to make 2021 the year of the Constitution of May 3, MP Jachira mentioned – in her opinion – broken articles of the Polish Constitution, such as Art. 180 on the indelibility of judges. – The government subordinated the courts to itself, without regard to art. 178 and 173, speaking of the independence of judges and the segregated nature of courts, she said, tearing the printed pages of the articles from a copy of the constitution.
"Delegates for Law and Justice have usurped the entire National Council of the Judiciary in violation of Article 187. You found Articles 190 and 194 to be incompatible with your view of the Constitutional Court," she added.
She pointed out that "contrary to Article 42, President Duda (Mariusz) pardoned Kamiński, who had not been convicted by a final sentence". "You violated eight other articles of the constitution," she explained, handing over a copy of the constitution with the pages torn off.
"Maybe instead of celebrating, we should make 2021 the year of national mourning after the trampled constitution" – she stressed.
The rest of the article can be found under the video material:
Outrage from PiS MPs
Deputy Janusz Kowalski (Solidarna Polska), who acted after Jachir, asked Marshal Małgorzata Kidawa-Błońska (KO), who led the session of the Sejm: "You didn't respond when there was a torn constitution in this chamber, the 1997 Basic Law." . "You have not responded formally, like a member of the Polish parliament, but in fact an activist and coincidentally did something very shameful," he said.
He asked Marshal Kidawa-Błońska why she did not respond? "We can't agree in this room," he said. He added that United Right now "defends the constitution".
"We defend sovereignty and defend the tripartite division of power," Kowalski stressed.
Answer from the Deputy Marshal of Kidawa-Błońska
"I didn't respond when the deputy destroyed the pages – I always regret when someone destroys a book – but she ripped the pages. And the state is destroying the constitution, breaking the constitution, punishing people for wearing the 'Constitution.' -badge, people who are on the street with such signs "- replied the deputy speaker of the Sejm.
"You really have to have the guts to accuse the MP of expressing her opinion, knowing that you have violated the constitution in recent years" – added Kidawa-Błońska.
"I thought you were someone trying to live up to at least certain standards. These weren't pages, it was a constitution. A little reflection and reflection" – said Jacek Ozdoba, PiS MP, suggesting that Marshal Kidawa-Błońska " first should be to submit an application to the deputies' ethics committee for the fact that the constitution has been torn in this chamber "
We are glad that you are with us. Subscribe to the Onet newsletter to receive the most valuable content from us
Source link