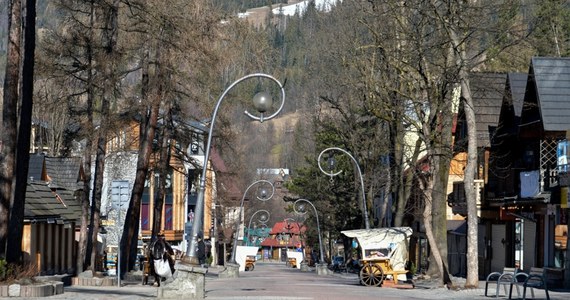 Zakopane authorities have asked the Prime Minister's office for clarification on the restrictions, according to which hotel facilities for tourists will be suspended until November 29. According to the municipality and entrepreneurs, the restrictions do not indicate whether the ban also applies to popular private homes.
Zakopane; Krupówki
/Maciek Jonek /News reporter
When Prime Minister Mateusz Morawiecki announced the new restrictions on Nov. 4, he said that hotel facilities in Poland would be partially closed from Nov. 7, but he did not specify whether it included private accommodation.
– Everyone gets lost in the restrictions announced by the Prime Minister regarding the operation of hotels and tourist facilities. We asked the Prime Minister's office to interpret the provisions on whether the rental ban also applies to private accommodation, apartments and cottages that are popular in Podhale. Whether it concerns hotel business. The regulation does not explicitly mention private accommodation, and since it is not mentioned, it can be read that it does not apply to private accommodation, but it is not clear to us – said the mayor of Zakopane Leszek Dorula.
On Friday, November 6, the regulation on new restrictions was published in the Journal of Laws. According to them, from Saturday to November 29, hotels are only available to guests on a business trip, players participating in sports training camps and matches, medical professionals and patients and their carers, if the need to provide them with accommodation is the result of the conditions are specified for a particular benefit. healthcare (e.g. cancer and dialysis patients, and small adult patients).
According to the Chairman of the Tatra Chamber of Commerce (TIG), Agata Wojtowicz, the rules are unambiguous and apply to all tourist activities.
– Some owners of popular guest houses adhere strictly to the sanitary regime and believe that the regulations apply to all hotel facilities, ie those where you can simply stay overnight as a tourist, and the only exception is a business trip. Others, in turn, rent out rooms. We are waiting for clarification of the provision, but I think they will be unambiguous, meaning that it actually applies to all places where tourists stay overnight – explained Wojtowicz.
She pointed out that any other interpretation would be illogical and inconsistent.
– If we were talking about a virus that is spreading in hotels and it is no longer present, for example in a guest room or a vacation home, it would not make sense. Sure, it is very painful for the tourism industry, but I appeal, we better let it go now, hoping we can have tourists for Christmas and New Years Eve – said the TIG president.
Source link