Black Week is coming to an end. For five days, the Morele store invited us to its place, where really hot offers were waiting for us. It's even better on the day of the grand finale! View the offer on Black Friday.
The Black Week Grand Final in the Morele Shop!
Today the Black Week Grand Final at the Morele store – a week full of great promotions. Note the plural – this promotion was so interesting and unusual that there is no line of products that you can simply buy for less during the sale, but there was a new offer every day.
Each day of the Black Week sale at the Morele store, slightly different products from different categories were discounted. Gaming accessories dominated Monday, universal and office peripherals Tuesday, and Wednesday everyone could find something for themselves. Thursday's offer consisted mainly of great monitors at discounted prices and very interesting keyboards and mice. A mix of different equipment has been prepared for the grand finale. Scroll through the list of discounted devices and don't forget to redeem the code: 87MKXTOCTB. We also looked at this offering and found some really strong offers …
On Fridays, use the code 87MKXTOCTB – here are the best 5-day sale deals
Here's one of the best blackfriday discounts in the Morele store: Acer Nitro XV270Pbmiiprx monitor for PLN 799 (and not PLN 1099 – 28% cheaper). It's a decent monitor that works well every day, but also shows the claw during the game. The 27-inch IPS panel displays an image with Full HD resolution, renewed at a frequency of 120 Hz. Let's add that while the technology used wouldn't indicate this, the device offers a 1ms response time.
Let's talk about gaming accessories, let's take a look at the Roccat Khan Pro headphones for PLN 259 (not PLN 355 – 28% cheaper). This model is worth its base price, so it's worth getting even more seduced during the action. Light construction (the set weighs only 230 grams), memory foam upholstery (so for the highest comfort) and very good, 50 millimeter transducers that guarantee a rich sound in the 10 to 40,000 Hz band are the biggest advantages.
And again, we're not going too far as we managed to find another great offer in the audio category. These are the Creative SoundBlaster X Katana speakers for PLN 899 (and not PLN 1049 – 15% cheaper). In fact, it is a desktop soundbar – small in size and significant capabilities. Two high-quality amplifiers, four converters and a 24-bit DAC ensure rich and clear sound, and a wireless subwoofer (with its own amplifier) ​​adds powerful bass.
It's time for something from a different category, because we enter the computer from the outside. You can upgrade them by purchasing the Crucial MX500 2 TB drive for 849 PLN (not 999 PLN – 16% cheaper). This is a 2.5-inch SSD with a capacity that is large enough for a few dozen games or several hundred thousand photos and very high performance. Both read and write speeds can exceed 500MB / s. The carrier has received the "Super Profitability" stamp from us, and now it is even bigger.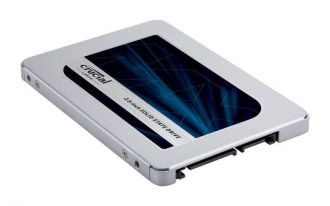 Finally a practical device. It's the HP DeskJet Plus 4120 printer for PLN 299 (not PLN 359 – 17% cheaper). It is a very good equipment for a student, student, remote worker and, in general, any other user. Prints quickly and in decent quality, and Wi-Fi and Bluetooth connectivity allows you to free yourself from wires. In addition, the device also offers scanning and photocopying, so no more is needed.
This is the last day of Black Week 2020, but if any products go unsold we will be buying them at discounted prices by the end of this weekend.
The article was created in collaboration with Morele.net and is updated daily.
Source link