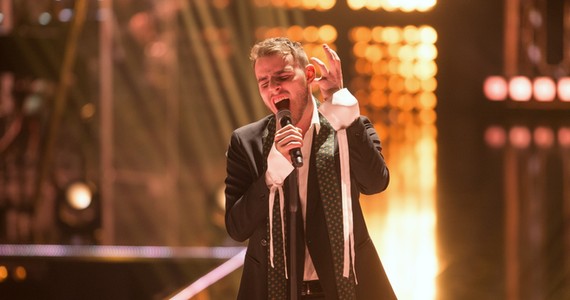 The final of the eleventh edition of the program "The Voice of Poland" is behind us
Ania Gąsienica-Byrcyn, Adam Kalinowski, Krystian Ochman and Jędrzej Skiba, the charges of coaches Edyta Górniak, Baron and Tomson, Michał Szpak and Urszula Dudziak competed for victory.
The winner was Krystian Ochman. Michał Szpak's protégé was born and raised in the United States. He is the grandson of the famous tenor Wiesław Ochman
The competition was fierce, Edyta Górniak did not cry this time and TVP chairman Jacek Kurski, who was present at the announcement of the results, announced that the program was watched by 3 million 800 thousand. viewers
You can find more such stories on the homepage of Onet.pl
How time flies …. Nine years have passed and we already have eleven editions of "The Voice of Poland" – based on the Dutch format "The Voice". It seems that the days of talent shows are over, but TVP is effectively taking advantage of the recent lack of such programs in the competition and can attract quite a large audience, averaging two million per episode. The format has managed to create a few names that work in our music scene, although they have not achieved star status. The first editions were won by Damian Ukeje, Natalia Sikora and Mateusz Ziółko, and the last two – Marcin Sójka and Alicja Szemplińska, Poland's representative in this year's 65th Eurovision Song Contest, unfortunately canceled due to the pandemic.
In the final, Ania Gąsienica-Byrcyn, Adam Kalinowski, Krystian Ochman and Jędrzej Skiba competed for victory in the 11th edition of "The Voice of Poland", and the accusations of coaches Edyta Górniak, Baron and Tomson, Michał Szpak and Urszula Dudziak. There are no weak voices in this program, as already in the stage of "Blind Auditions" participants who can sing, selected during the so-called production pre-castings – sometimes with a lot of stage experience. And this translates into quite a high level.
The match consisted of three rounds, and whoever went further was decided, as always in the final, not by the coaches but by the spectators. The first round consisted of performances by solo participants and with a coach. We learned, among other things, that Edyta Górniak finally met the highlander family of Ania Gąsienica-Byrcyn, admitting that she would like to grow chanterelles in the future, and when you drink mulled wine you become "terrible to kiss and have to run away". In the age of a pandemic and Edyta's well-known approach to the subject, the advice is very valuable.
The joint duo with the payload in "Rolling In The Deep" turned out correctly, though it's hard to line up with the original Adele. In this part, Ania Gąsienica-Byrcyn also sang "One Night Only", a soul ballad from the musical "Dreamgirls", performed by Jennifer Hudson and others.
– At this stage we are no longer judging, but we are pleased. You sang sensational, beautiful – praised the participant Urszula Dudziak.
Tomson and Baron, the trainers of Adam Kalinowski, the greatest veterans of the program (they were in all editions except the ninth) visited the animal shelter with him, looking for dogs that would appear in the Afromental video "Wściekłe Psy". Together they played the acoustic "Drive", rock's biggest hit Incubus, and later Adam Gary Moore's ballad blues "Still Got the Blues" – he sang great, his voice is heavy rock, but maybe a more expressive track would make the finalist with even more possibilities.
– People, saints, oh my God. Phenomenal, just phenomenal, insane. It's quite a pleasure to listen to you – compliments Edyta Górniak from Kalinowski.
Michał Szpak went with his student, Krystian Ochman, to Jasło, his hometown – and showed him, among other things, a community center where he sang on stage for the first time, where he sang a song by Grzegorz Turnau at the age of thirteen. Together they sang the Spanish-language version of the French hit "Comme d'habitude" from 1967, better known as "My Way" by Frank Sinatra. It was performed in Spanish, including Il Divo or Gipsy Kings. Vocally, it was hard to find fault, and the operatic momentum fits well with this famous melody. After all, Krystian, born and raised in the United States, is the grandson of lyric tenor Wiesław Ochman – it's rare to see such delighted coaches even on this program.
After that he faced Madonna's "Frozen", which was not an obvious choice and certainly not the easiest – but he managed to create an interesting atmosphere and most importantly show off a diverse palette of vocal colors. – You are so original that you give the quality of this edition your uniqueness and I wish you stay that way – praised the Baron. – You sing beautifully, you have such a natural stage personality that I just lose myself in the music while you sing – added Edyta Górniak.
Urszula Dudziak invited Jędrzej Skiba into the bosom of nature, to her home in Podlasie, to take a breath for the final. She also showed him photos of joint performances, including with Sting. The collaborative performance of "Virtual Insanity" was similar to Jamiroquai, although enriched with the characteristic Dudziak scat. The solo sung ballad "All I Want" by the Kodaline Irish fits Skiba's rather soft and emotional singing style, which should easily find its way into the quiet folk rock repertoire.
– If I listen to you I would like to learn this lightness and every time you are on stage I try to record you. You don't hear any effort and you are able to get really high notes with such ease … Give me some of that! – said the delighted Michał Szpak.
In the interval between the first and second stages, the four finalists played "I like to come back where I was" from Zbigniew Wodecki's repertoire – unfortunately recently a bit exploited by the use of a certain brand in an advertising campaign, otherwise the sponsor from "The Voice of Poland".
At this stage, Jędrzej Skiba was removed from the program by the viewers. – Dear Jędraszek, nothing can stop you from going far – Urszula Dudziak assured her neighborhood. – You are very smart, very intelligent and very talented and just because you did not win this program does not mean there is a shadow or a scratch. I'll cheer you on more than once, she admitted.
The match in the second part of the final was started by Ania Gąsienica-Byrcyn with Kasia Wilks "Until when I am" – a song that allows you to present a whole range of vocal possibilities, even if it wasn't a big hit. – Ania, this is top shelf, you are sensational – Urszula Dudziak praised the participant. Adam Kalinowski took over the work of the Za Szkłem brothers. – At this stage I miss words. It's such a joy that I don't want to repeat myself – admitted Edyta Górniak, while stressing that "we are lucky enough to enjoy music in such a difficult year", thanks to this unique, historical edition of "The Voice of Poland ". But "Don't wait for me in Argentina" – Andrew Lloyd Webber's Polish version "Don't Cry for me Argentina" from Zdzisława Sośnicka's album "Musicale" was perfectly interpreted by Krystian Ochman. "Wizard, you step into your role and change the formula of this program," said the Baron. – You are great!
They went to the absolute "final" Krystian Ochmanwho took first place at this stage, and Adam Klinowski. – Anna, proud, proud, proud. Thank you very much for all the emotions and our time together, you are a phenomenal singer, world class – said goodbye to her neighborhood Ania Gąsienica-Byrcyn Edyta Górniak and expressed the hope that as they are neighbors they will hike into the mountains together . The singer, who often loses control of her emotions, did not cry this time.
In the final stage, the two finalists competed with their own singles – first they went to Adam Kalinowski's "Tenement Houses," intended as a compromise between his rock character and radio needs, but they are unlikely to be a big hit. Krystian Ochman's "Chiaroscuro" came out much more interesting and certainly more original, and was different from anything the contestant sang earlier in the final.
With the votes of the public the winner of the 11th edition of "The Voice of Poland" he was clearly excited and nervous about waiting for the results Krystian Ochman. As a reward it was not only a statue, but above all record deal with Universal Music Polska I 50 thousand PLN. Of course, there was also the chairman of TVP Jacek Kurski on stage, who can not miss any opportunity to appear on the vision at important moments. By the way, he announced that the final was watched by 3 million 800 thousand. people.
Krystian may have an interesting career – he has an opportunity in popular music as well as the more classical world. Maybe he will try to build a bridge between them. Many have already done this, some have been successful.
Also on the program was Andrzej Piaseczny, a trainer of the 1st, 6th, 7th and 8th editions, who sang his song "To what good, to what better", Sanah accompanied himself on the ponytail in "Champagne", and then remembered her hit "No sory", which won her two prizes in the "Premier" competition at the 57th National Festival of Polish Song in Opole.
However, the winner of the previous edition, Alicja Szemplińska, presented her new single "Pusto".
Source link